This Is a Recovery Worth Getting Excited About
... and it has absolutely nothing to do with the size of total government, which is still shrinking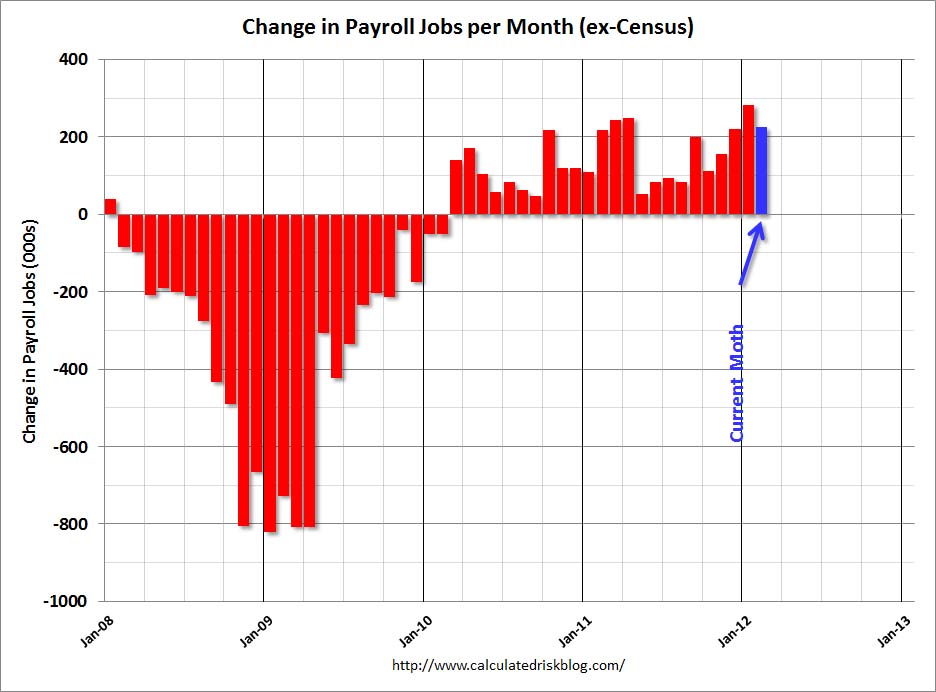 Hey everyone? This is what a real recovery looks like.
The economy added 227,000 jobs in February, and the unemployment rate held steady at 8.3%, even as more people joined the work force. The day's news is good. The trend line is even better.

The economy has added 730,000 jobs in the last three months, which puts us on pace to add nearly 3 million jobs in 2012, after adding 1.6 million in 2011. The last 12 months of job growth was the best in five years. Long-term unemployment -- the most intractable tragedy of the Great Recession -- is ticking down. Wages are still low, and unemployment is still way too high among minorities and low-skilled workers. And we could still get creamed by a freak gas spike. But this is a recovery worth getting excited about.

Voters are often asked, if they're not already asking themselves, are you better off today than you were four years ago? This is a tricky question to answer now. At the end of 2008, the official unemployment rate was only 6.7 percent, but we were losing 800,000 jobs a month. At the beginning of 2012, the official unemployment rate is 8.3%. But we're gaining 200,000 jobs a month. Are we better off?
One way to drill down into this question is to reflect on the really big picture: Where the jobs are going and where aren't they going. Since Obama's first month on the job, total government has lost 600,000 jobs. (He's a pretty bad socialist, apparently.) The goods-producing sector, which includes manufacturing and construction, is still down 1.6 million jobs -- as many jobs as we added all of last year! All the growth has been in services, where we've added 1.3 million new positions.

Here's what the January 2009 - February 2012 change looks like as a share of total jobs in government, goods, and services. If you break out services by education, you would find evidence that people with college and advanced degrees were both less likely to lose their jobs in the recession and more likely to find higher-paying positions in the recovery.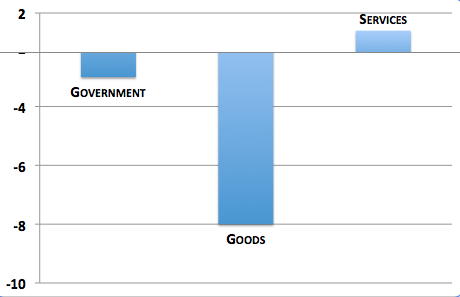 This big picture is that yes, manufacturing has had a great two years, adding 450,000 new positions. But this is a services economy experiencing a services recovery. Let's hope it keeps going.

>