The Unemployment Rate Didn't Change—Good News!
Despite today's strong job growth figures -- 227,000 new positions added -- you might have noticed that the unemployment rate stayed unchanged at 8.3 percent. This is, to a degree, good news. The figure stayed level because, while the economy added more jobs, the size of the workforce also grew. After months and months in which growing numbers of workers bailed on the labor market -- either because of age, family choices, or sheer hopelessness -- people are finally returning to the job hunt. The workforce participation rate, which tracks how many Americans have a job or are looking for one, ticked up to 63.9 percent, from 63.7 percent in January.
This is the first time the rate has increased at all since last August, when it briefly ticked up 0.1 percent.
Below, I've graphed out the changes in workforce participation since January 2008. While it might seem as if all of these numbers are moving within a fairly narrow band, don't be fooled. The changes since the recession have been dire. Before this year, the overall rate hadn't dropped below 64 percent since 1984.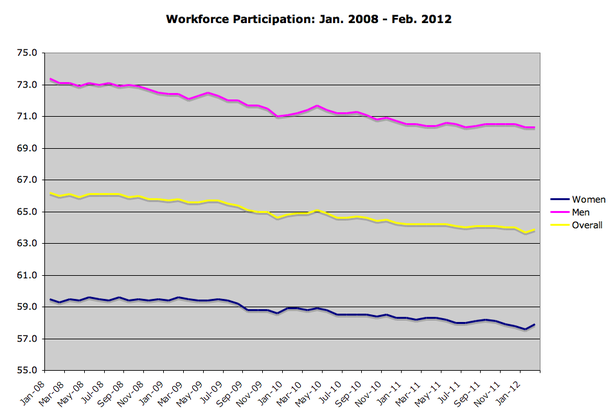 As the graph shows, the good news this month was mostly good news about women. Whereas the participation rate for men has been steady between 70.3 percent and 70.5 percent since July, the fraction of women in the workforce had been steadily dropping towards lows not seen since the early 1990s. One theory for why: the steady erosion of government jobs, where females are overrepresented. But this month, women's participation grew from 57.6 percent to 57.9 percent. Hopefully this is the beginning of a trend, a sign of growing confidence among women workers and not just a temporary blip.
In an ideal world, the economy would be spouting out enough new opportunities to bring down the unemployment rate in spite of these new employment seekers. But a growing labor force is much preferable to a shrinking one.
>