The Porous Glass Ceiling: Lessons in Breaking Through From Hilda Solis
What the country's first Latina Cabinet secretary can teach us about women in business, the value of affirmative action, and the culture of Washington.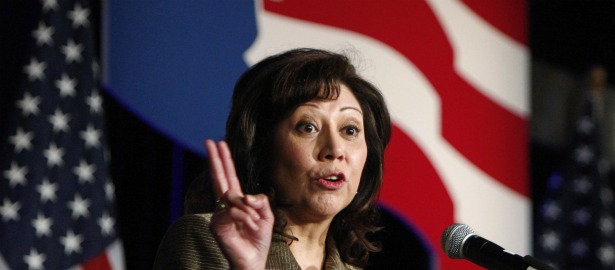 Reuters

The glass ceiling still keeps many women from reaching the top echelons of business or government. But it's something that Labor Secretary Hilda Solis hasn't experienced herself. The 54-year-old former lawmaker, the first Latina to become a Cabinet secretary, knows firsthand that women can overcome barriers. She was born into a large family of limited means in Southern California, the daughter of a Mexican father and a Nicaraguan mother with less than sixth-grade educations. She was expected to seek a secretarial or clerical job, but, encouraged by a high school counselor, became the first in her family to attend college. After graduating from California State Polytechnic University, she earned a master's degree in public administration from the University of Southern California.
---
MORE FROM NATIONAL JOURNAL
---
Solis arrived in Washington in 1980, as the federal government was seeking to hire more women. She reached out to Hispanics on behalf of President Carter and worked as a policy analyst in the Office of Management and Budget. Then she returned to California and launched a political career, climbing from a community college's board of trustees to a state Assembly seat before becoming the first Hispanic woman elected to the state Senate in 1994.
Outspoken on labor and environmental issues, she ran for Congress in 2000 as an unwavering liberal and trounced the incumbent, Matthew Martinez, in a Democratic primary. As Solis learned the ropes in what she recalls as "a very male-oriented" Congress, her affability masked her toughness. She drew close to Nancy Pelosi, a sister Californian who became the first female House speaker. Labor unions have approved of her Cabinet performance, though their leaders grumble privately about her lack of influence on President Obama's economic policies. Edited excerpts from an interview follow.
Did affirmative-action programs help you?
SOLIS: Absolutely. There's a big myth about affirmative action. Once you get there, you still have to prove yourself. I have three strikes against me: I am a female; I am a minority; and, in many [jobs], I was a lot younger. You didn't typically see a lot of Latinas venturing out [into high-profile jobs].
How big an obstacle is the glass ceiling today?
SOLIS: It has improved from when I first became exposed to better job opportunities and moved up the ranks in [government]. But there are fewer women holding public office, [partly because they need] the confidence and ability to go raise money with folks that are not women. That continues to bother me. There [also] is a glass ceiling in ... science, technology, engineering, and math.
What does it say that women are CEOs in only a handful of Fortune 500 firms?
SOLIS: It's embarrassing. It says that we still have a lot more work to do. And here [in Washington], the highest-paid lobbyists [are] males.
How important are mentors in overcoming obstacles?
SOLIS: I give a lot of credit to Nancy Pelosi and others who have given other women opportunities--that is really important. I have tried to do it here at the Department of Labor. More than 51 percent of my kitchen cabinet is diverse--women, women of color and [nonheterosexuals], women of different backgrounds, which is very unusual for the federal government.
Men continue to earn more than women while performing similar jobs. Should government play a greater role?
SOLIS: We are trying to level the playing field. When there have been instances of discrimination, we are pursuing those cases in court. Sometimes, the issue isn't just about going to court; it's about changing the behavior, the culture.
Why shouldn't one be cynical--you're still trying to change the culture in 2012? Do you think things really will improve?
SOLIS: I do.
Why?
SOLIS: Because more women are in the workplace now, and there are more [diverse] people represented in places of importance in government. I believe one day, maybe before 20 years, we'll see a woman president.
How big a deal would that be?
SOLIS: Big. Big.
>