The Great Construction Worker Mystery
A lot of them are still unemployed, but there might not be a special reason to worry about them
Since the end of the housing boom, it's been a long, silent season for the construction industry. Spending on building projects is down 32 percent from its 2006 highs. Residential. Non-residential. It doesn't matter. There's no recovery.
And yet, something odd is happening. Unemployment among construction workers is actually dropping faster than across the economy as a whole.

Here's the construction bust in a graph, courtesy of FRED. Spending is bouncing back like a half-inflated basketball.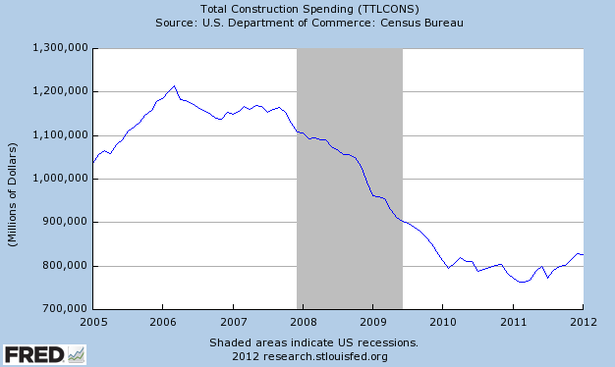 Just as you'd expect, the actual number of employed construction workers is still near its previous low. There are about 30,000 more construction workers employed than there were a year ago, out of a total for more than 5.5 million.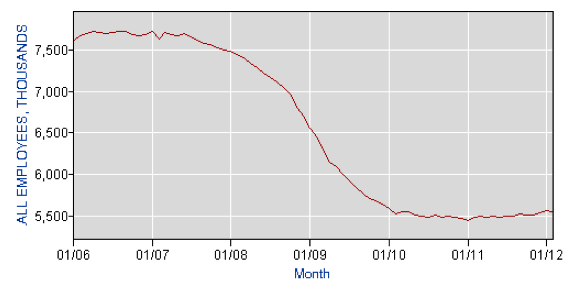 But here's where things get weird. Yesterday, researchers at the Federal Reserve Bank of New York posted this graph tracking the unemployment rate for construction workers. The unemployment rate for the entire U.S. is in blue, and its scale is on the left. Construction is in red, and its scale is on the right.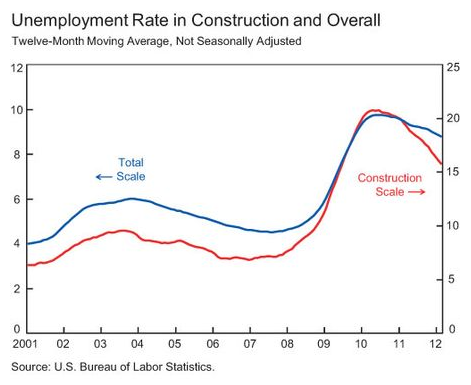 Constructions unemployment is horrible, at 16 percent, but it's also somehow dropping faster than the national average. This is happening despite the fact that the sector has been adding jobs more slowly than the economy as a whole.  Not only that, but construction unemployment peaked in 2010, before spending in the industry began its rebound.
It gets weirder: Despite the fact that their industry has been decimated by the recession, construction workers now make up the same share of the unemployed as they did in 2007 -- i.e., before the recession. Again, from the NY Fed: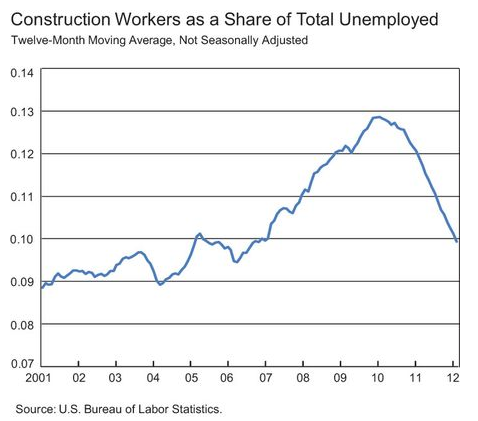 But wait! you say. There are obvious answers here. Construction workers could just be finding jobs in other fields, or leaving the workforce altogether. After all, if you're not hunting for a job, you're not counted towards the unemployment figure. Both of those explanations would make perfect sense, if they were true.
According to the Fed's researchers, employees in construction are actually leaving the workforce at a slower rate than the general population (as shown in the graph below). Meanwhile, there's no sign they've had to switch industries to find work. In 2005, more than 30 percent of unemployed construction workers had to change their line of work to get a new job. Now, fewer than 30 percent have to.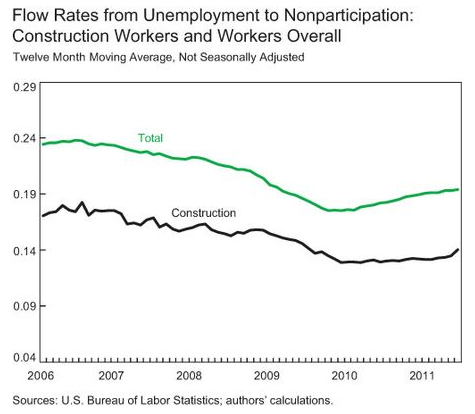 So construction spending is way down. Construction jobs are scant. But construction's unemployment rate is falling faster than the economy, even though workers aren't finding new careers are leaving the workforce. What's happening? Beats me. Explanations appreciated.
>