The Future of College: The Biggest Classes Are the Most Expensive
One of California's largest community colleges has a plan to deal with the age of austerity -- charging students more for the most in-demand courses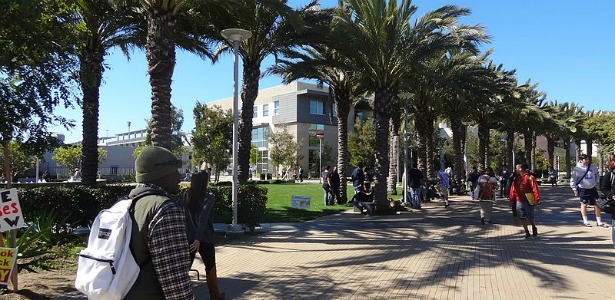 For a long time now, states have been telling their public colleges to do more with less. Legislators have slashed higher education budgets with abandon as enrollment has grown.
If you want to see what this will mean for students in the long run, check out Santa Monica College, a 34,000-student community college in California, where the most popular classes -- the ones students absolutely need to take before they graduate or transfer to a four-year school -- could soon be the most expensive. This is a future where the wealthiest students might just end up with a leg up on everyone else.

Exploring the cost of everything
See full coverage
Since 2008, the Golden State has shrunk funding for its sprawling, 112-school community college system by 13 percent. Its cuts to higher-ed have not been the most severe in the nation, but they have been painful. Santa Monica alone has lost $9.9 million in support. And like its institutional peers, the school has been forced to cut classes in response. It now offers 15 percent fewer courses than four years ago -- not nearly enough to meet the demand from students, many of whom simply cannot get enough credits to finish their degrees on schedule, or transfer to a four-year school. A Santa Monica spokesman told me that some courses have waiting lists twice the size of the actual class. Out of frustration, students have started transferring to expensive, for-profit schools, taking out high-priced loans in order to get their degree in a reasonable amount of time.
Santa Monica has come up with a smart, yet frustrating, solution. This week, the school announced that it would begin offering more expensive versions of its most popular courses during the summer in order to accommodate students who can't take them during the school year. The classes will be offered at cost, since the college is providing them without any subsidy from the state. The price works out to $180 a credit -- not a huge sum, but still five-times what students pay now.
PAYING A PREMIUM TO GET AHEAD

The reaction from students has reportedly been mixed. The college insists low-income students will be able to afford the classes with help from state grants and a special fund the school has set up for private donations. But as the Los Angeles Times noted in an editorial today, it's not clear that students registered for these courses would be eligible for the government aid administrators are counting on. And some argue that Santa Monica is effectively absolving the state of its responsibility to fund education.
"It's creating a two-tiered system of wealthier students who can afford classes and struggling working-class and low-income students competing for the scraps of what's left; it's definitely a move in the wrong direction," student government President Harrison Wills told
The LA Times
.
And Harrison is right. It's not a fair system. It is perverse to think that, at a community college, the most basic educational stepping stone we have to the middle class, there are now haves and have nots. But what better choice is there for a school like Santa Monica, other than to try and fight an unwinnable legislative battle for more state funding? By some estimates, California's community colleges are already turning away hundreds of thousands of students from classes. Unless a new tax initiative passes in November, the system could be facing another 5.5 percent budget cut. Their resources have been cut past the bone. And, as Santa Monica President Dr. Chui L. Tsang told me, the summer classes will still be less expensive than tuition at one of California's four-year state schools, or a for-profit university.
It's not hard to imagine other cash-strapped institutions following Santa Monica's lead. If they do, it would be a sea-change in higher education, especially at two-year schools, which educate roughly 40 percent of American undergraduates. Yes, it would divide colleges into a fast-track for some, and a plodding, slow-track for others. But it would also transform state schools into semi-private institutions, with some of their offerings supported by taxpayers, and others by the market. That's a fundamental re-imagining of their mission and their relationship to the public.
Again, though, there might not be a better option. 
"When the state reduces these funds, they're not thinking about the students," Tsang said. "They're looking at it purely as a budget balancing act. We're educators. We have to think about opportunities and access. And we cannot just dump the students on the street when that happens." 
In other words, they need to figure out how to do more with less. 

>