The City That Works (Even Better!): Emanuel's Strategy for Chicago Growth
To thrive, a city needs to collaborate with its suburbs. But bringing together the 14 counties surrounding Chicago will be a challenge -- even for someone as persistent as Rahm Emanuel.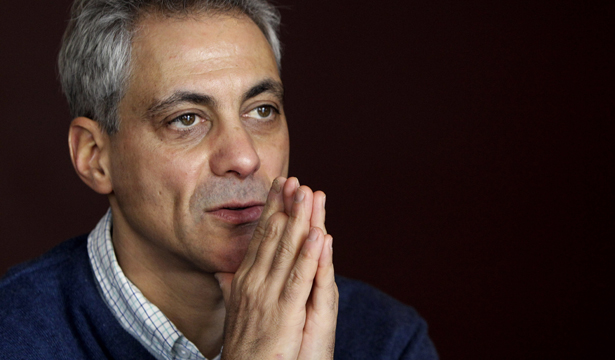 AP Images
Rahm Emanuel was sitting with David Axelrod at a Chicago Bulls game Tuesday night, with Axelrod frequently checking his smart phone for Republican primary results while taking in a sport ruled by a 24-second shot clock. Pro hoops places a premium on quick, short-term tactics and execution -- the sort that most in the political sphere reflexively mirror.
It was thus a pleasant surprise to learn Wednesday morning that Emanuel, Chicago's hyperkinetic mayor and an obsessive when it comes to winning the next news cycle, was unveiling the sort of long-term economic strategy that is rather foreign to most elected officials.
"A Plan for Economic Growth and Jobs" is World Business Chicago's, a group hand picked by Emanuel, first run at devising a serious regional growth plan -- don't forget that key word, regional -- with the help of smart Emanuel buddies at the Brookings Institution, McKinsey & Company, and a Chicago planning group, Metropolis Strategies. Hey, you didn't figure that Emanuel would enlist the esteemed Bain & Company, did you, given the current political landscape?
A by and large impressively frank report assesses the strengths and many weaknesses in the economy of the third-largest city, which by some academic accounts is now the fifth or sixth most important global city economically, after New York, London, Tokyo, Singapore and perhaps Paris. It thus inevitably offers lessons and warnings for the rest of the country.
One vividly glaring reality: Chicago may kick butt when compared to most other U.S. cities, and indeed has been adding jobs lost during the recession, but last year "the Chicago region ranked 139th among the largest world metro areas in employment growth." Yes, 139th.
A sophisticated discussion of growth is hard to find during the hyperbolic early stages of the presidential campaign. It's easier to bash corporate America for sending jobs overseas, raise doubts about the value of higher education, fence over Mitt Romney's view of the auto bailout, or to wear rose-tinted glasses and talk about magically creating lots more manufacturing jobs here even as lower-cost and more productive supply chains around the world are kicking our butt.
If we did have a serious discussion, it could at least include debating the record and lessons of a December, 2010 "Global Metro Summit" convened in Chicago by the London School of Economics, Washington's Brookings Institution and Frankfurt-based Deutsche Bank. That gathering, which generated virtually no media attention, resonates in the new report.
In clear and obvious ways, the new Emanuel primer for Chicago's -- and inherently America's -- economic future takes the play book from the conference and runs with it, especially by buying into the notion of metro regions, not cities alone, being the essential economic units competing in the global economy.
In sum, that Chicago assemblage of hundreds of planners, public officials, philanthropists, educators, and business from around the globe laid out why America is quietly getting creamed as it offered intimate portraits of regional successes worldwide -- the likes of Barcelona, Seoul, Turin and Munich -- which have turned themselves around by thinking very long-term with a degree of regional cooperation generally foreign to us.
What successful cities worldwide have done is to convene officials of local, state and federal governments and devise long-range plans for a region, including trying to revitalize traditional industries, sharply improving the skills of workers by improving technical opportunities in school systems, and generally moving to a green economy and constructing high-speed transportation networks.
Those cities have often procured huge sums of money from both government and private investment coffers to improve infrastructure and create polytechnic colleges; invest in start-ups and create ongoing collaborations among private companies, researchers, government and venture capitalists. And they also made sure to build or revive downtown areas in ways alluring to an increasingly portable class of younger worker.
It's a lot different than the generally self-defeating American penchant of defining development as poaching another guy's company. A perfect example has been how New Jersey and Wisconsin took out ads in Illinois to attract Illinois companies after the legislature passed a tax increase last year.
It's myopic thinking, which is why the first Emanuel effort is to be applauded. The 14-county Chicago metro area, after all, would be the 20th largest economy if it were a country and is essential to the nation's future.
It's an economy that has developed dramatically from the Rust Belt manufacturing icon of yesteryear and its strongest sectors are now finance and business services, wholesale and retail, manufacturing, healthcare, and transportation and logistics.
The region's inherent strengths are ample and include its central location, a world-class global logistics infrastructure, the ability to manufacture goods, a strong immigrant network and prominent universities.
The report lays out ten strategies, including becoming a leading hub of advanced manufacturing, further enhancing its position as a leading transportation and logistics hub, figuring out ways for employers to better articulate their employment needs, making Chicago a far more enviable tourist destination and making life far easier for entrepreneurs.
It concedes that certain sectors of the Chicago economy are underperforming, especially when it comes to small- and mid-sized firms. And while Chicago is third among U.S. metro regions in the total volume of exports, it lags behind peer cities in the percentage of goods exported, meaning, "We still serve too domestic a market." Further, it suffers from labor shortages when it comes to high-skilled workers, research and development spending and rates of productivity.
Interestingly, the study notes how educational levels in Chicago surpass the national average -- 34 percent of the local population holds a bachelor's degree or above, compared to 28 percent of the U.S. population -- and its has a bevy of great academic institutions, including two of the top five business schools, at Northwestern University and the University of Chicago.
But the city of Chicago lags when it comes to the number of citizens holding a high school degree or above. That's a big problem as the skills levels needed for new jobs changes, with the biggest jobs losses of late laying out in construction and manufacturing, while the biggest gains were in educational services and healthcare.
There's not just a seeming skills mismatch, there is also a "spatial mismatch," meaning that "firms and workers struggle to find and evaluate each other because jobs are not located near or within easy access to areas where workers with relevant skills live."
A key question is whether Emanuel can help summon a regional political will to work together. After all, Illinois is notorious for an outrageous number of separate governmental units. Within the 14-county metro area alone, there are 1,723 separate units. It not only presents a regulatory nightmare but lots of inefficiency and an unwillingness of many units to seriously mull combining since so many individuals would lose their clouts, perks and, yes, jobs.
But maybe, just maybe, some success can be achieved by the man I've tagged the Missile for the heat-seeking intensity of his approach to his new job. Somebody is going to have to cajole many other parties to buy into the notion of acting collegially, regionally, smartly, and bloodlessly. You need a combination of diplomat and data-driven force of nature.
That's especially so since the report not only tries to offer many specifics about how its ten goals can be achieved but openly concedes the hurdles: Illinois' own disastrous fiscal mess, lousy public education, a sense of an onerous tax environment, the crazy fragmentation of government units and a possible lack of leadership in generating the funding needed for achieving longer-term initiatives.
The task is rather more formidable than shooting a ball before a 24-second buzzer sounds. And rather more important.
>