The 40-Year Rise of the Female Worker in 1 Chart
Happy International Women's Day! Yesterday, we spanned the globe in 1,000 words on the remarkable ascent of women in the workplace.

Today, I present a picture, courtesy of Federal Reserve data, of the four decade rise (and fall, in some cases) of female labor participation rates in some of the biggest, richest countries in the world. Click to expand.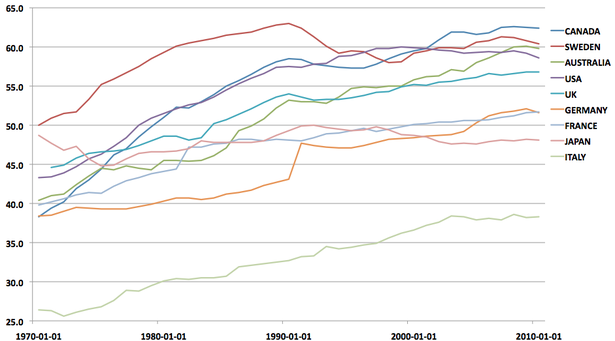 The country with the most growth has been Canada, where female labor participation skyrocketed from a low 38 percent in 1970 to a world-class 62 percent in 2010. The only country to lose ground in the last 40 years has been Japan, which once led the (non-Sweden) world in female participation in 1970, but actually slipped 0.7% in the last 40 years to fall below every country on this list but Italy.
>