Pssst! RomneyCare Is Working (Don't Tell Romney)
Not that this will help him win a single Republican primary vote, but according to a new study out this week, Mitt Romney's Massachusetts health care reform appears to making the state healthier.
Researchers Charles Courtemache and Daniela Zapata found that Massachusetts residents have been more likely to report excellent or good health since RomneyCare passed in 2006, especially if they previously lacked health coverage. Women, minorities, near-elderly adults, and low-income residents who qualified for the legislation's subsidies enjoyed the biggest improvements.
The graph below charts changes in Massachusetts' health status index against the rest of the United States between 2001 and 2010. After a few years of decline, the state seems to have started improving its health in 2005, before Romney's legislation was implemented. But the researchers ran a regression analysis controlling for a number of factors that could affect health outcomes, and found that the reform law's expansion of coverage was responsible for the improvements during the second half of the decade.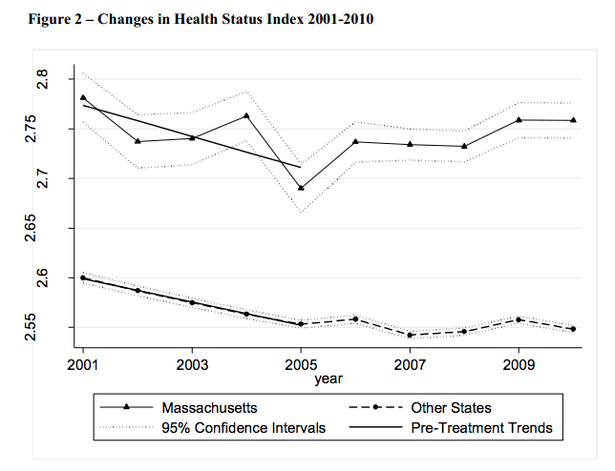 The effects weren't dramatic statewide. The chances of a resident being in poor, fair, or good health each fell by less than a percentage point, while the probability of being in very good or excellent health rose 0.2 percent and 1.2 percent, respectively. But although the impact on the population as a whole might have been modest, the researchers suggest that the improvements could be driven by a small group who had been without coverage, and saw their health improve significantly after receiving it. Getting a medical plan made residents 16 percent more likely to report excellent health, for instance.
Of course, none of this speaks to the issue of cost. We now know that health care premiums are rising slower in Massachusetts than the rest of the country. But the researchers estimate that improving a resident's health from poor, fair, or good to very good or excellent took $9,782 in government spending. Seem worth it? Possibly. But maybe not if you're a Tea Party voter.
>