Paul Ryan Loves Class Warfare, and So Do the Democrats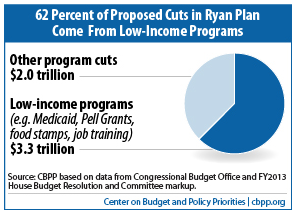 Here is everything you need to know about how serious Washington is about the deficit. This week, 100 Democrats voted for a bill that raised $4 trillion in taxes mostly from banks and millionaires; 300 Republicans voted for a bill that cut $3 trillion from low-income programs; and not even 40 people voted for a bill that both raised taxes and cut spending in a balanced manner. Who's afraid of a little class warfare? Not this Congress!
Let's start with Ryan. I don't know if Paul Ryan's budget, which House Republicans approved this week, is "cruel," but it is certainly unusual that Mitt Romney has endorsed it so enthusiastically.

The Center on Budget and Policy Priorities found that $3.3 trillion in Ryan's savings -- or 60% of the total cuts -- comes out of low-income programs. That onslaught is headlined by a $1 trillion reduction to Medicaid spending and $133 billion cut to food stamps, or SNAP. In February, the New York Times reminded me this morning, Romney said he's "not concerned about the very poor" since our safety net is adequate. One month later, he endorsed a $3 trillion cut to the safety net.

In the Washington Post, Jennifer Rubin writes, "the House budget and my own plan share the same path forward: pro-growth tax cuts, getting federal spending under control and strengthening entitlement programs for future generations." Strengthening, apparently, means different things to different people. The "strengthening" of SNAP amounts to $1,000 less food each year for poor families. Surely, they'll respond by starting a slew of small businesses.

When the White House proposes new spending paid for with higher taxes for the rich, it's class warfare. When the GOP proposes $3 trillion in cuts for low-income programs while proposing marginal tax cuts for the top bracket, it's "getting things under control." 

The House voted on a much better budget this week. No, that wouldn't be the Congressional Black Caucus budget, which wasn't a budget, so much as an anti-Wall Street placard with numbers. The better budget would have cut about half as much spending as Ryan. It would have raised tax revenue by a little more than $1.2 trillion, more fairly than the president's plan, and less than the proposal from the Senate's bipartisan Gang of Six. It was based on the president's deficit commission, which got a majority vote in committee from both Democrats and Republicans. It was balanced. It got things "under control." And it failed, predictably, by a vote of 382-38.

>