Obama vs. Romney Tax Plans in a Very Tall Graph
The Tax Policy Center has
released
its evaluation of the administration's 2013 budget. The upshot is that the White House tax proposal would lower taxes slightly for one-sixth of taxpayers and raise taxes significantly on the top one percent.
To see how
the administration's tax plan
would match up against
Mitt Romney's tax plan
, I compared TPC's projection of how both men would impact taxes compared to
current policy in 2015
. Here is the first, most dramatic graph, comparing how much more each quintile, or percentile, of households would pay under the Obama/Romney tax plans. Scroll (and click to enlarge: Y-axis is in dollars) ...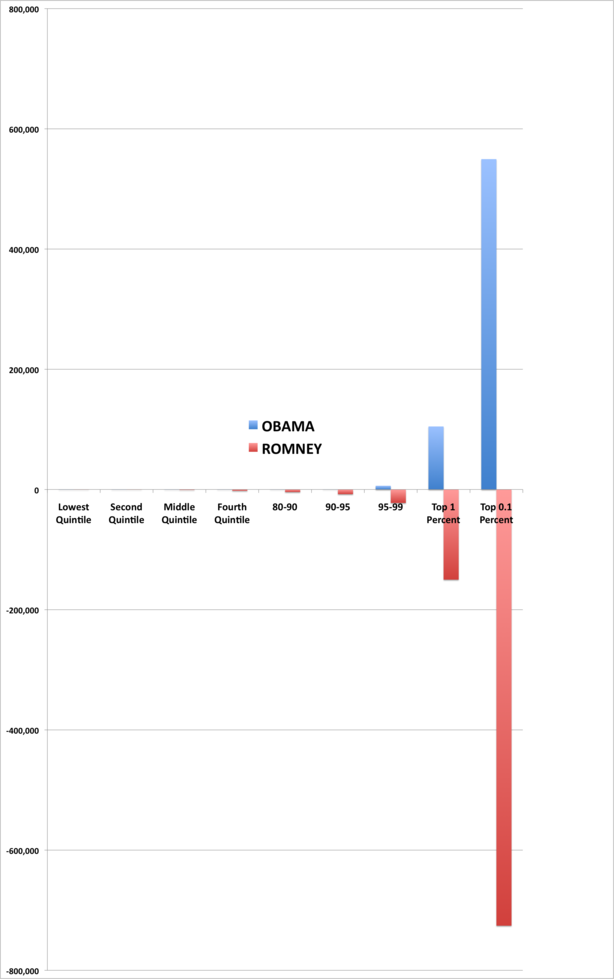 And here's the same data by
percent change in effective tax rates
, which is probably the most useful way to compare tax plans. Note: the Romney plan raises taxes slighly in the lowest quintile against current policy because it would axe the tax credits in the Recovery Act, which the president has said he would like to extend. Romney would cut taxes for every other group in TPC's analysis. You can play with the data yourself
here
and
here
. Y-axis is in percent-change in taxes paid.