No, Democrats: Income Inequality Didn't Cause the Financial Crisis
The theory makes perfect sense. But new data says it isn't true. 
There's something intuitively compelling about the idea that America's growing income inequality helped fuel the 2008 financial crisis. The narrative, which got an official stamp from Congress' Democrat-led Joint Economic Committee back in 2010, goes something like this: As middle class wages stagnated, families borrowed more to prop up their standard of living. Banks, along with Fannie Mae and Freddie Mac, happily provided them with unaffordable mortgages, which they then skillfully repackaged and sold as securities. Eventually, the whole house of cards collapsed, plunging us into the Great Recession.
The story is downright elegant -- a sort of grand, unified theory of our present economic woes. But according to a new study, it's plain wrong.

The working paper, from Professors Christopher Meissner of the University of California, Davis and Michael Bordo of Rutgers, looks at whether there is a consistent historical relationship between rising income inequality and financial crises, using economic data on fourteen countries, including the United States, from between 1920 and 2008. It finds that although big financial busts tend to follow on the heels of credit booms like the mortgage bubble, there is no statistical relationship between the expansion of credit and the share of a country's income going to it's top 1 percent.
What does drive loose lending? Low interest rates and an expanding economy. When credit is cheap and times are good, people borrow. Simple.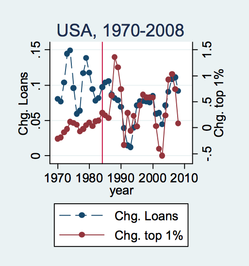 That pattern held true in United States, where the study examined the periods leading up to the Great Depression, the dot com bust, and the Great Recession. In a phone interview, Meissner said that, superficially, it seemed that there might be a correlation between rising inequality and the out-of-control lending that helped fuel each of those crises. As shown in the the graph to the left, inequality and bank lending in America seem to move hand in hand by the late 1980s. But once the researchers controlled for factors like GDP and interest rates, the correlation melted away.
"A lot of people have been skeptical that inequality could give us the terrible situation that we had in 2007 and 2008, and I think the evidence backs that skepticism up," Meissner said. "We're saying that if you want to push this story any further, let's see some real evidence that might be the case."
Image: Reuters
>