Mitt Romney Has a Big Rich-Poor Enthusiasm Gap
The rich are different from you and me. They like Mitt Romney -- a lot.
According to exit polls analyzed by Think Progress, the GOP frontrunner plays considerably better among voters making more than $200,000 than among any other group. Mitt Romney wins the $200k+ group in every state with available data in TP's analysis. In Tennessee, Nevada, Iowa, Michigan, and George, his support nearly doubles between the poorest and richest primary or caucus voters.
To see how the enthusiasm gap plays out across the country, I took Mitt's support among the rich (RED) and graphed it against support middle-class households making between $50,000 and $100,000 (BLUE) in the chart below. Here's your wealth-enthusiasm gap: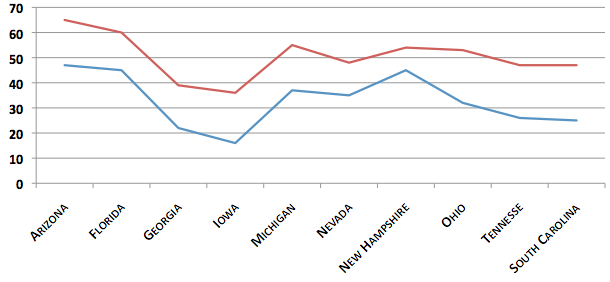 It might be too early to say for sure if Mitt Romney -- whom I cannot imagine not getting the nomination -- will have a working-class problem in the general election. (Democrats shouldn't get too excited: Their guy has elitist concerns of his own.) But Romney certainly appears to have a working-class problem in his own party, at least when judged against Santorum and Gingrich. In Georgia, Iowa, Oklahoma, Tennessee, and South Carolina, Romney won the top income by close to or more than 20 percent. He also lost all five states.