How Much Gold Do You Need to Pay Yale's Tuition? The Same as in 1900
As everybody knows, elite college tuition is getting ferociously expensive. And, as everybody knows, gold is getting ferociously expensive, as well (for entirely different reasons). With these maxims in mind, an enterprising writer at Priced in Gold has answered the question I know you've been wondering: If it cost 1,000 gold grams in 1900 to pay Yale tuition, how many more gold grams would you need to afford Yale college tuition today?
The answer is, practically, zero.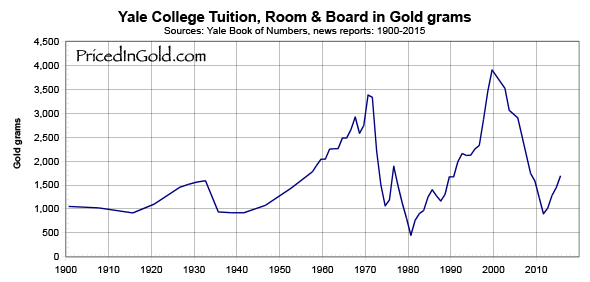 I can't decide if this fact is meaningless or engrossing: The 100-year inflation of full tuition basically tied the 100-year inflation of gold. The only substantive conclusion I can think of to justify this post (really, I just thought the graph was cool) is that the picture is such a handy approximation of economic strength, partly because gold is a hedge you buy when you're afraid everything is falling apart. Investors shift their money into stocks and equity when times are good, driving down the price of gold (and driving up the gold-for-tuition figure). The graph's steady rise from the 1940s through the 1960s tracks a strong post-war economy. The collapse in the 1970s into 1980 tracks inflation and the '81 recession. Then the gold-for-tuition figure rides the 1990s' boom and goes back down the roller coaster after 2001.