Etch A Sketch Company's Stock Tripled Yesterday
Everybody knows that nothing sells toys like marginal presidential candidates using them as campaign props. That's just Business 101.
That explains why Etch A Sketch's parent company Ohio Art is the hottest stock out there right now. Check out its price going vertical.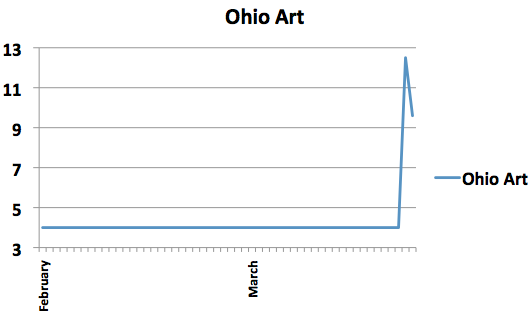 There it is, quietly moving between $4.00 per share and $4.25 per share for the past two months and then
bam
! Romney adviser
Eric Fehrnstrom
makes the gaffe of the month: "I think you hit a reset button for the fall campaign. Everything changes. It's almost like an Etch A Sketch. You can kind of shake it up and restart."
In the 12 hours after that comment, Ohio Art's price tripled to just above $12.00 a share. To give you an idea of how insane that is, consider that over the past three years, the stock has strictly traded in a band between $2.50 and $4.00 a share.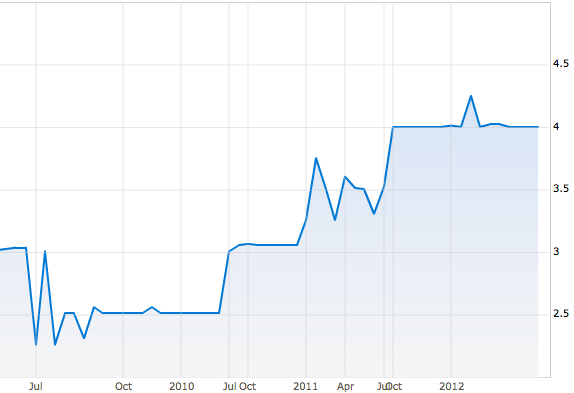 We can conservatively say that efficient markets have seen finer moments, yes? Unless you think Newt Gingrich's Super PAC is going to pour all of its Sheldon Adelson money into buying up old-fashioned toys, there's no reason to think the stock price should move at all. Does anybody really think that Ohio Art's long-term prospects are now three times better they were yesterday, all because of a one-day (okay, two-day) political meme?
This is just a particularly absurd reminder of what the financial crisis showed us: Markets have short memories. Day-to-day, they feast on new news. We get caught up in the mania of the crowd. We overvalue bits of news and undervalue actual fundamental analysis. Maybe Goldman was right. There really are muppets out there. And they're pouring their money into Etch A Sketch.