Chart of the Day: A Short History of 200 Years of Global Energy Use
Exploring the cost of everything
See full coverage
If you want to tell the story of worldwide energy consumption over the past 200 years, you need three chapters. Chapter 1: The Coal Age. Chapter 2: The Oil Age. Chapter 3: The China Age.
The graph below, posted recently on The Oil Drum, charts out the growth of worldwide energy consumption per capita since the early 19th century. In the early days of industrialization, the use of biofuels such as wood declined as the West learned to live and breath coal. Even with the introduction of the automobile -- the Model-T Ford debuted in 1908 -- it took the onset of World War II to turn oil, and to a lesser extent natural gas, into the next great energy resource. Notice though, the world's per capita growth seemed to level off in the 1980s.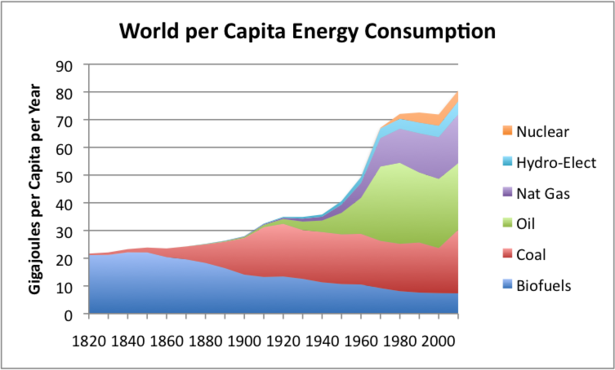 That pause in growth lasted until the 21st century, and the rise of China. See that purple hockey stick in the bottom of this second graph (Also courtesy of The Oil Drum)? That would be the people's Republic.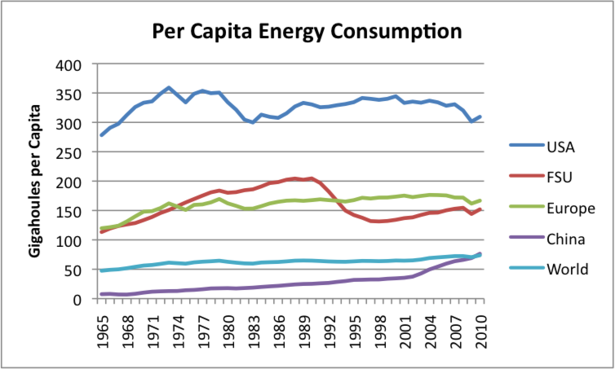 What does this all tell us? It means that what's happening in China today will likely have very, very long-term impacts on the shape of the world's energy markets. Once a country has an energy infrastructure in place, it's very hard to switch onto other resources -- not just because old habits die hard, but because different types of power sources each require their own particular infrastructure. That doesn't mean it can't be done, but it's a slow process. Look, for instance, at the way coal has persisted, even as alternatives became available. With its flourishing solar industry, China could perhaps become a leader in alternative energy. It could also continue to power itself on petroleum and coal. Whatever it chooses, they're likely writing another century of the world's energy (and economic) future today.
>