Bernanke Is Giving Us the Recovery He Wants, Not the Recovery We Need
With the latest round of monetary stimulus, the Federal Reserve is boldly going where it has already been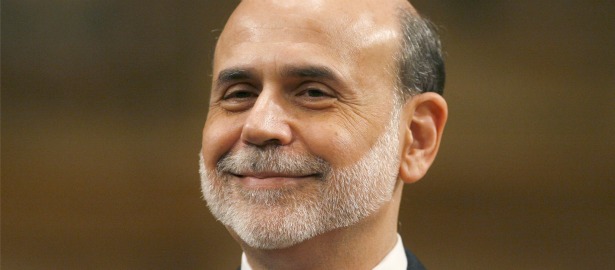 Reuters
Big, big news from the Federal Reserve. They are considering doing something they are already doing, but calling it something
else
.
This "new" operation, carried out under the rather gross-sounding moniker of "sterilized quantitative easing," is just another way to reduce long-term interest rates. The specifics aren't terribly important -- although if you want all the gory details about bond-buying and reverse repos, check out
Jon Hilsenrath
-- but the result should be identical to the so-called "Operation Twist" the Fed did last fall.
In Operation Twist, the Fed sold some of its short-term Treasuries to fund purchases of long-term Treasuries. In this "sterilized round," the Fed would -- to make a big simplification -- basically reverse that order, buying long-term Treasuries first and selling short-term Treasuries second.
That's a lot of trouble for the Fed to keep doing what it's already doing. (To be fair, there is one difference. The Fed can only do "Twist" so long as it has short-term Treasuries to sell, which isn't the case with sterilized QE). The idea behind both of these programs is to push down long-term rates -- which should make mortgages cheaper -- without increasing the amount of money in the economy. It's a way to stimulate the economy without pushing up inflation.
But why in the world is the Fed worried about inflation right now? Here's core inflation. (
Remember, we exclude food and energy prices because they are set in world markets, and are prone to very violent swings
).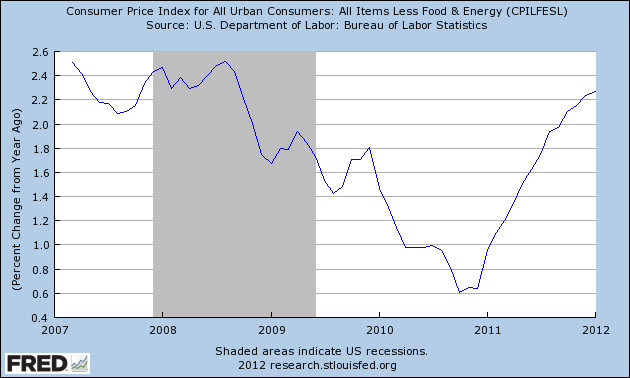 It's not exactly the Weimar Republic.
There are
only two variables
that should guide monetary policy: inflation and nominal GDP, which refers to the total size of the economy. Usually they tell the same story. That's not the case now. While the Fed is more or less hitting its target on inflation, the size of the economy is far, far below where it should be. That's another way of saying that the unemployment is too damn high. But the Fed doesn't want to start missing its inflation target to hit what
should
be its nominal GDP target, so they're a bit gun-shy about seeming to do too much. They
shouldn't be
.
Which is all to say that the Fed is giving us the recovery it wants, but not the recovery we need.