A Working Woman's World: Out-Learning and Under-Earning Men
A new poll finds women optimistic about their opportunities and comfortable with their roles. Say good-bye to the "mommy wars."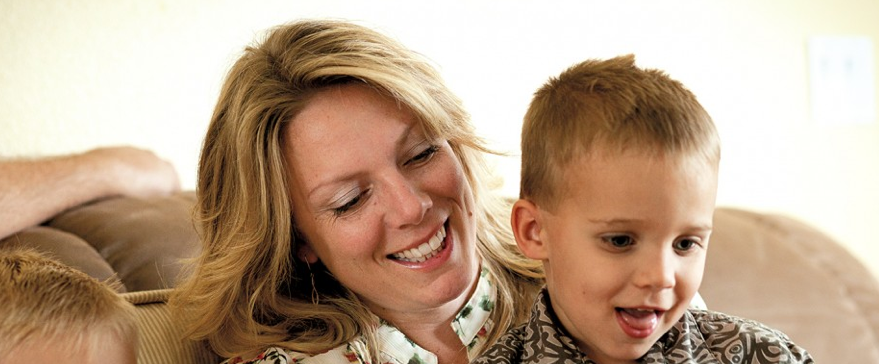 Construction isn't an industry usually considered hospitable to women, but Kimberly Reading of Deltona, Fla., found it a firm foundation for opportunity.
Working at a family-owned home-building firm, she started off "in the front office ... answering telephones and purchasing pencils," she recalls. But the father and sons who ran the company gave her an opportunity to prove she could handle more responsibility. "Once they could see I could do it, they embraced it," Reading says. Eventually she became a project manager, directing multimillion-dollar housing subdivisions and training other project managers. At the industry's peak, she collected a six-figure salary. And apart from a few flirtatious comments from male coworkers early in her career, she says she never felt held back because she was a woman. "It's the new culture we're in," she says. "If you want it, you can go for it. You can't get held back by your gender."
---
MORE FROM NATIONAL JOURNAL
---
Comparing her own experience with her mother's, Reading, 34, believes she enjoys vastly greater opportunity and choice. In that belief she's among a commanding majority of women. In the latest Allstate/National Journal Heartland Monitor poll, two-thirds of women said they have greater opportunities to get ahead in society than their mothers did; only one in 14 said they have fewer. "My opportunities were a lot more," Reading says. "My mother was a home-wife her whole life. She was very young when she had children." Like Reading, a striking three-fourths of women say they believe they can now advance as far as their talents will take them, regardless of their gender, and nearly as many say they have not personally experienced discrimination in the workplace.
Still, despite the widespread sense that more workplace doors are opening for women, the survey found that half of women still believed that more opportunities were available for men and that most women expected the lingering pay gap between the sexes to endure. It also found that men and especially women were struggling to balance their responsibilities at work and home in an economy when many families need the income from two earners to stay afloat. Perhaps most strikingly, women felt the rules and expectations were often changing more rapidly around the conference table than the kitchen table, according to the survey: The vast majority of women with children continue to report that they spend more time than their spouses raising the children.
And yet, for many mothers, the survey makes clear that this decision is at least as much a choice as a necessity. Indeed, the poll suggested that many women now look at time in the workplace and time with children not so much as irrevocable decisions than as fluid options that they will dial up or down at different points in their lives. After an era in which sociologists talked about the "mommy wars" between women who worked outside the home and those who remained there to rear children, this new survey found that many women today are comfortable shifting between the two roles, at a pace and proportion that they control.
Reading exemplifies that dynamic. Notwithstanding her rapid ascent at the home-building company, she left in 2009 around the time she gave birth to her second son. "With my first son, we paid for child care.... It went well; he was taken care of, and he learned a lot," she says. "But when I had my second son, I wanted to do the nurturing myself. I didn't want to miss out on all the things I missed with my first son." Even that's not the end of the story, though. Now Reading is working toward a history degree that she hopes will allow her to transition into a career in historic preservation when her children are older. Looking at her friends, she knows that integrating career and home life can be "very stressful." But she's confident that it will be her choices, rather than any limits imposed by others, that will determine how she strikes that balance.
ECONOMIC EXPERIENCES

The latest Allstate/National Journal Heartland Monitor poll is the 12th in a series exploring the ways that Americans are navigating the changing economy. The poll, conducted by Ed Reilly, Brent McGoldrick, and Jeremy Ruch of FTI Strategic Communications, a communications-strategy consulting firm, surveyed 1,000 adults by landline telephone and cell phone from March 3 to 6. It has a margin of error of plus or minus 3.1 percentage points.
This survey focused on the economic experiences of women and the ways that men and women balance the demands of home and work. Since the most recent Heartland Monitor was taken in December, the poll finds a noticeable uptick in optimism about the country's direction and the economy's trajectory; that breeze has lifted President Obama's approval rating above 50 percent for only the second time in the survey since September 2009. The other occasion came immediately after the killing of Osama bin Laden. (See "Stronger, but Not Secure.")
The poll comes at a complex moment of opportunity and continuing challenge for women in the workforce. Women now receive roughly three-fifths of both bachelor's and master's degrees from American colleges and universities. And for 47 of the past 50 months, the unemployment rate has been lower for women than for men, according to the Bureau of Labor Statistics. (In the Heartland Monitor survey, men were more likely than women to say they had lost a job or had seen their hours and pay cut in the past five years.)
But women, at every step up the credential ladder, still earn less than men with the same level of education. (Indeed, in the survey, a majority of working women said they earned less than their spouse, and only one-fifth said they had more opportunity to advance in their job than their spouse did.) And while the Labor Department mostly forecasts the greatest job growth in fields dominated by women, many of those jobs, including health care and education, don't pay very well. This reality means that the pay gap between men and women probably won't disappear any time soon.
In fact, the survey found that 65 percent of women, and a narrower 52 percent of men, expect the wage gap between the sexes to persist. Yet only about one-fourth of each gender attributed the pay gap primarily to discrimination or unfair treatment in the workplace. The largest group in each gender--almost half of women and about two-fifths of men--said that the pay gap existed because "women have different family and home life priorities and responsibilities than men." The remaining one-fourth of men and approximately one-sixth of women attributed the difference to women making "different choices than men in the workplace," such as not pursuing promotions as aggressively.
Mothers who work were slightly more likely than woman overall to attribute the pay gap primarily to the family and home life priorities of women themselves. Sherryl Kuhnen of Beaver Creek, Fla., works full time as a resident nurse, but she left the workforce to care for her children when they were young. "We sacrificed financially so I could take care of my children," she says. "I don't regret that decision--I really don't. I believe that a lot of problems in our society stem from the fact that we devalue the role of motherhood."
Despite the persistence of the wage gap, the most powerful sentiment among women in the poll is a sense of doors opening, especially when compared with previous generations. That's not to say that women believe the playing field is completely level today. Forty percent of women said that men and women have equal opportunities today, while 5 percent said that women have more opportunities than men. But 51 percent of women said that "men have more opportunities than women." (Only 32 percent of men agreed; most men say that opportunity is now equal for both genders.)
Yet the survey captured a strong sense that trends for women are moving in the right direction. Fifty-four percent of both men and women said they believed that opportunities to get ahead were more equal now for women and men than they had been for their parents' generation. About half of both women and men said that any opportunity gap for women will continue to shrink over the next generation. "Historically, men have been in charge of things," says Brent Bevers, a student and a part-time bartender in Port Angeles, Wash., who responded to the poll. "If you look back to the first half of the [20th] century, women were the caretakers at home, and men were in charge of running businesses and being the breadwinners. And if you take that generation, and ask them whether women are just as capable of men, they're going to have a different idea of what that means than people of this generation."
When asked to compare themselves to their mothers, 68 percent of women said they enjoyed more opportunity to get ahead in society. Far fewer men, only 45 percent, said they considered their opportunities greater than those available to their fathers. A mere 7 percent of women said they had fewer opportunities than their mothers; the remaining one-fourth saw no change.
OPPORTUNITIES, DISCRIMINATION

Just under one-third of women attributed these increasing opportunities to the growing number of women with college degrees; a roughly equal share attributed them to changing social attitudes about the role of women. About one in six gave credit to laws requiring equal treatment for men and women; an approximately equal number said that opportunity was expanding primarily because so many women were entering the workforce.
The sense of expanding opportunity was widely shared among women. Nearly three-fourths of working women with children under 18 said they enjoyed greater opportunities than their mothers. Not only did 77 percent of college-educated working women agree, so did 69 percent of working women without college degrees. (Again, by comparison, only 40 percent of working men without college degrees believed that their opportunities exceeded those of their fathers.) Just over two-thirds of both white and nonwhite women saw their opportunities expanding compared with their mothers.
One reason for that broadly shared sense of expanding vistas: Two-thirds of women said they have obtained more education than their mother did. "I've definitely had more opportunity than my mother did," Kuhnen says. "My mother got married when she was 19 years old, and she had five children. It was a different day and age. She didn't get the opportunity to go to college. I think she would have liked that. I don't think she necessarily wanted to have five children, but that's just how things were."
Most women in the workforce, the poll found, don't see gender as a barrier to their advancement. Three-fourths of women who are either working outside the home now, or have done so in the past, said that in their own workplace they can "advance as far as their talents would take [them]" regardless of their sex. Once again, that sentiment is virtually as strong among noncollege as college-educated women, and among nonwhite as white women. Similarly, 71 percent of women who are working or have worked said they have not been personally discriminated against, including being denied promotions or raises. "At this time, women really have as much opportunity [as men]," says Reading, the former construction-company executive. "I could see other women in my field, who took the chance in a field that was dominated by men, and I could see them succeed. If they could show and shine where I worked, they definitely had an opportunity." Amy McElroy, a Coast Guard officer from Springfield, Va., agrees. "I haven't experienced any discrimination," she says. "I haven't experienced a situation where my gender has played a role in preventing me from meeting my goals."
Even so, a substantial 27 percent of women said they have faced discrimination in the workplace. Sharon Bridges, a retired telecommunications worker in Gahanna, Ohio, is one who believes that women still are often treated unfairly. "For 35 years I worked in a large corporation," she says. "From the day I started there until I retired, it was very clear to me that men were making more. Some of us were working side by side with them. And I always thought that was very unfair."
College-educated working women were considerably more likely than those without degrees to say they had been discriminated against at work. That finding may help explain why the poll found only modest optimism about women's ability to crack the glass ceiling--the tendency for women's careers to stall out before they can reach the pinnacle of public and private office. Told that women account for less than 3 percent of the chief executives at Fortune 500 companies, just 41 percent of women said they considered that very likely to change. A slightly larger, but still restrained, 49 percent of women said they considered it very likely that women will hold more public offices in the future. Only 39 percent of women said it's very likely that the nation will have a female president. For many women, it seems, the sense of expanding opportunity expires above a certain level of influence. "It's a well-known fact that for women in corporate management, the numbers are slim and not really growing," says Mary Beth Morabito, a homemaker in Novi, Mich. "The glass ceiling still exists in 2012."
JUGGLING WORK AND FAMILY

Two large clouds loom over this generally positive landscape of widening options for women. One is the financial strain facing many Americans, particularly in the aftermath of the Great Recession that began in December 2007. The other is the intertwined challenge of juggling work and family at a time when many families need two incomes to pay their bills. Tellingly, when asked whether they found themselves worrying more about "financial issues like earning enough money ... and keeping up with bills and expenses" or "personal issues like being able to spend time with family, taking care of children ... and having time for yourself," both men and women divided nearly in half between the two choices.
Each of these challenges affects men and women. But for families with children, the strain of balancing the demands of home and work still falls most heavily on women. On a variety of fronts, the poll found women in such families making greater accommodations to meet such demands.
For instance, 44 percent of women who have ever worked outside the home said that at some point in their career they had left the workforce for a period longer than a maternity leave to care for young children. Only 6 percent of men concurred. Even more strikingly, 63 percent of women with children said they were more active than their spouse in the care of their children; just 1 percent said their spouse took a greater role, while 33 percent said they shared the responsibilities equally. Men, not surprisingly, demur: Just 35 percent of men agreed that their spouse shouldered more responsibility; a 52 percent majority insisted they accepted equal responsibility.
But in interviews, several women said that the choice to suspend their careers to focus on young children was not forced on them but something they had welcomed. Many of these comments suggested some 21st-century amalgam between old gender stereotypes and a new sense of empowerment among women who feel free to navigate between the workplace and motherhood by their own compass. "Women are more nurturing," says Charlotte Brummel, a human-services officer for a nonprofit in West Seneca Falls, N.Y. "Some women are just built to nurture, or we're raised thinking that we're supposed to be that way. There's a learning curve involved with taking care of children, and guys are afraid to screw up. With my son, his first day in the hospital [after being born], when he spit up, I didn't ask what to do. Dr. Spock didn't tell me what to do about this. And not even a few days later, one of the nurses asked me if he was my first, and when I said, 'Yes', they were like, 'Well, you seem so calm!' I figured he was a newborn baby, and there was only so much you could do. I just kind of fell into the role."
And the poll presents striking evidence that in the families with working women, couples are renegotiating responsibilities at home. About half of working women with children under 18 said they shared child care about equally with their spouse (compared, recall, with just 33 percent of all women with children). So did about half of men and women in two-earner households. In that vein, a striking 47 percent of men, as well as 33 percent of women, in two-income households said they staggered their work schedules to ensure that one spouse is available to watch the children. Working men without a college degree were the most likely to report such shift-juggling. Women were also more likely than men to report that they manage the finances in their household--and working mothers were slightly more likely than women overall to say they control the checkbook. Nearly two-thirds of men and women in the workforce also gave their employers good marks for helping them balance their responsibilities at home.
Those polled don't report a big increase in the use of organized child care compared with their own childhood. Both men and women in the survey split about evenly among those who said their own children spent more, less, and about the same time in organized child care as they did when they were young.
Still, there's no question that child care outside of the home remains a source of ambivalence for many Americans. Those polled divided nearly in half when asked if child care was "mainly a positive experience" for children and their parents or "mostly a negative experience." Women and men divided almost evenly on the question. Working women with young children were predominantly positive: 54 percent of them said they considered child care a positive experience, compared with just 35 percent who did not. Stay-at-home mothers with children younger than 18 gave child care more negative reviews, but not vastly so. Even a plurality of women older than 50 viewed child care as a net positive.
FEELING SQUEEZED

The precarious balance of opinion on organized child care was one of several ways in which the poll recorded anxiety about parents' ability to meet the demands of work and family. Asked which occurs more often, about three-fifths of men and women said that work obligations interfered with family life, while only about one-fifth said that family needs more frequently interfered with work. The sense that work took away from family life was even higher for the most affluent families than for those of more modest means.
The response to a related question, especially among women, underscored the feeling of squeeze. The survey asked those who are in the workforce, or whose spouses work, whether they would choose to work more hours to generate more income, or fewer hours to spend more time with their families, even if that meant less income. Women, by almost 2-to-1, said they would prefer to work less; a slimmer 52 percent of men also picked that option. A resounding 63 percent of working men and women with children under 18 said they would prefer more time rather than more money.
Yet for all of the strains, tensions, and ambivalence surrounding this new world of women in the workplace, the poll captures a strong conviction that it represented an irreversible tide--and one that has mostly improved American life.
One question noted that women now comprise more than half of the nation's workforce, up from around 40 percent in the 1960s. Reminded of that change, 56 percent of those surveyed--including 58 percent of men and 54 percent of women--said that "this change is encouraging and ... will have a positive effect on the country because the economy will benefit" from a workforce with more women. Just 34 percent of women and 31 percent of men said that this change "is troubling ... because it reflects a shift away from the traditional family structure." That's a much more lopsidedly favorable verdict, for instance, than Americans rendered in an earlier Heartland Monitor poll on the demographic changes rapidly diversifying the nation. (See "Race to the Top," NJ, 6/4/11,  p. 24.) The results also point toward a truce in the fabled "mommy wars": Women who stay at home with young children were slightly more likely than working mothers to describe women's growing prominence in the workforce as a good thing. Younger women were the most enthusiastic; but, again, even a plurality of older women viewed the change positively.
Like many women who responded to the survey, Brummel, the human-services worker, has little doubt that she might have obtained more education and advanced further in her career if she had not devoted as much energy to her family, particularly caring for an autistic son. But like many of the women interviewed, she seems very much at peace with the decisions she has made and the balance she has struck. Above all, she sees the state of her career as a reflection not of choices imposed on her but of the choices she has made herself. "I don't think gender has played into it," she says firmly. "I know this because I've got several friends who've gotten married and chosen not to have kids, and are doing higher level work and making higher salaries. [But] this is what my priority is in my life. Instead of going to the gym every day, I come home and I bake cookies with my son. It's no longer about me anymore. Instead of doing for me, I choose to do for us." 
Source: Reuters
This article appeared in the Saturday, March 17, 2012 edition of National Journal. Amrita Khalid contributed reporting.