A Lost Decade for Young Workers
Whether they were college grads or just out of high school, wages for entry-level American workers fell between 2000 and 2011, according to a new study from the Economic Policy Institute.
The left-leaning think tank has dubbed the aughts a "lost decade" for young workers, and it's a fairly apt description. College-educated men and women entering the workforce saw their inflation-adjusted earnings fall 5.2 percent and 4.4 percent, respectively. Wages slumped 8 percent for high school-educated men, and 3.1 percent for women.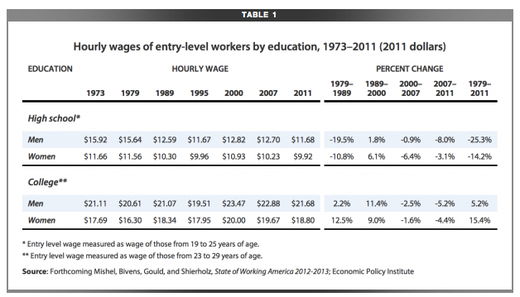 This isn't just a story about the Great Recession, although the downturn certainly helped force earnings down further and faster than they might otherwise have dropped. As the chart above shows, both education groups saw their pay consistently decline from the highs of the late 1990s. For high school grads, it was the resumption of a trend that began in the 1970s, as low-paid service employment began replacing manufacturing work. Their earning power has essentially been in recession since the Nixon administration, with a brief reprieve during the early web boom.
For college grads, it's a somewhat more complicated picture. The bursting of the tech bubble obviously took some of the froth out of the job market, but it also put a semi-permanent halt to twenty years of gains. The fact that by 2007 wages hadn't made it back to their previous highs shows that employers were still able to dictate terms in the labor market. It's a sign that there were enough grads, and few enough jobs, to keep wages depressed.
As the EPI notes, the 2000s saw wages stagnate across the board. But for the most recent cohort of college graduates, that fact means they will likely be worse than the previous generation for years to come. Research has shown that graduating during a recession can have lasting negative impacts on career advancement and earnings for up to 15 years. And even those lucky enough not to graduate in one of the recessions which book-ended the decade still had to start their working life at a disadvantage. In other words, they have something in common with their less educated peers.
>