1 Big Chart: There Is No Social Security Crisis
We have a Social Security problem, and a Medicare crisis.
Here's a question for the under-30 crowd: Do you think Social Security will still be around when you retire? Half of you don't. Here's why you should.

The below chart, courtesy of
Peter Diamond and Peter Orszag
, compares what the federal government spends on Social Security and on healthcare -- Medicare, Medicaid, and other mandatory expenditures -- today (blue) as a percent of GDP versus what the CBO projects we will spend on them in 2050 (red).* It's a tale of two
very
different entitlements.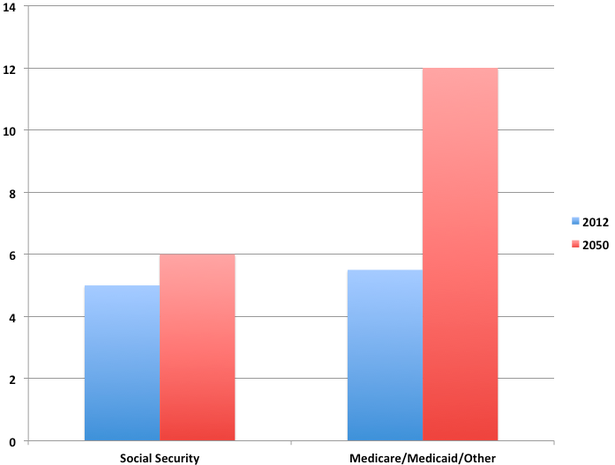 What a difference 40 years makes. While Social Security and federal healthcare spending make up roughly equal portions of the budget today, the CBO expects federal healthcare spending to be exactly
double
Social Security spending by 2050. There is no "entitlements" crisis. There is a Social Security problem, and a Medicare/Medicaid crisis. And the Medicare/Medicaid crisis is really a general healthcare spending crisis -- indeed, Medicare and Medicaid actually
spends less
than private insurance does.
That doesn't mean that Social Security doesn't need to be tweaked. A bump from five to six percent of GDP, as the CBO projects, isn't trivial. But checks to retirees won't bankrupt us. Fee for service for those retirees might.
So why do politicians prefer to talk about fixing Social Security? It's precisely because it's so easy to fix. Social Security is an accounting problem. Money goes in. Money comes out. If you increase the income, or decrease the outlays, you're finished. The challenge is raising revenue or slowing benefit growth in a way that is savvy enough to pass Congress and fair enough to keep benefits for those who really need them.
But we're pretty much clueless when it comes to reining in health care spending. The Affordable Care Act (aka Obamacare) does contain a good number of ideas about how to "bend the curve" of healthcare spending down, but we can't say with much certainty how well they'll work (or if they'll be declared
unconstitutional
). What we can say with certainty is that Social Security isn't going anywhere. Take that to the bank.
------------------------------------
*Correction: The original version of this post incorrectly labeled all federal healthcare spending as just Medicare.