Turn to Me (Yes, Me) for Your Fashion Tips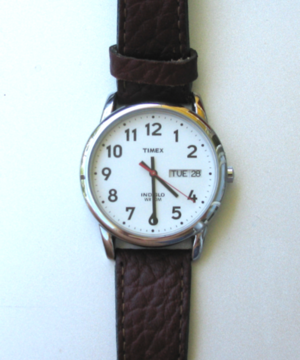 Last year I
revealed the secret
to affordable stylishness when it came to personal accessories. That secret was: the Timex Easy-Reader Indiglo watch, which costs somewhere between $25 and $40 depending on model variations and where you shop. It is shown not just in the photo at right but also, proudly, on the wrists of such fashion leaders as Harvard's
Lawrence Lessig
, NPR's
Matt Martinez
, Andrew Sprung of
Xpostfactoid
,
Eliza Schmidkunz
of GNSS, the Atlantic's
Scott Stossel
, and others including me.
During the holiday shopping stampede, Timex blessed style-conscious purchasers with a Cyber Monday special on the watch. And now Esquire has chosen this fine timepiece as #1 on its list of "Best New Watches for Spring," offering the following impressive rationale for the Easy Reader's preeminence: "Because it works just as well from the workday to the weekend. Not to mention the simple retro face looks cooler than some watches that cost six times as much."
 
Never mind all this Pol-MIl stuff, or economics or technology. Just come to me when you want to know how to accessorize. Thanks to Stu Cohen for spotting the Esquire item.