The Most Important Leg of Keystone XL Is Getting Built
Transcanada Corp. is building a section linking Oklahoma to the Gulf Coast. For now, that's all the oil industry really needs.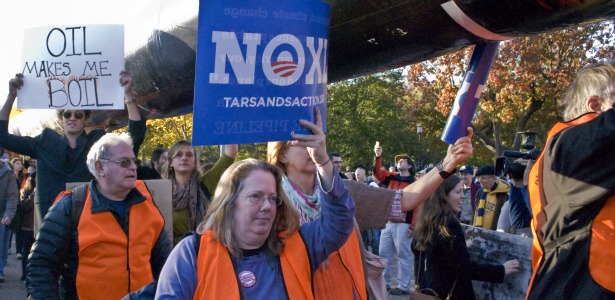 From the perspective of the oil industry, the most important portion of the Keystone XL pipeline is about to get built.
Yesterday, Transcanada Corp. announced that it would begin construction on the controversial pipeline's 435-mile southern leg, which will move crude oil from the storage hub of Cushing, Oklahoma to refineries on the Gulf Coast. Unlike the northern portion of the pipeline, the lower section won't require approval from the State Department, since it doesn't cross any international borders. So it doesn't appear there's much environmentalists can do to halt it.
Although Transcanada -- not to mention the Canadian government -- would surely love to see the entire, 1,600-mile Keystone XL pipeline built out eventually, constructing its southern link is by far the most pressing piece of business for oil companies. In the long term, Canada wants to make sure there's a reliable way to ship its crude oil as production in Alberta's tar sands ramps up. For now, it's oil companies would be happy if just a bit more of their product could make it to a refinery. During the past few years, the surge of both Canadian and U.S. oil production has overwhelmed the pipelines leading from Cushing to the Gulf, which has created a giant glut oil sitting in the heart of the country. As a result, prices have fallen well below oil drilled elsewhere in the world. That's been a boon for nearby refineries and motorists in state like Colorado. But it's an obviously frustrating situation for the drillers.
Creating a new pipeline from Canada to Oklahoma obviously won't alleviate that backup. But when the southern portion of Keystone XL is finished in 2013, it's expected to move about 700,000 barrels a day, which would go a long way towards a solution.
Courtesy of The Wall Street Journal, here is a map illustrating the proposed route.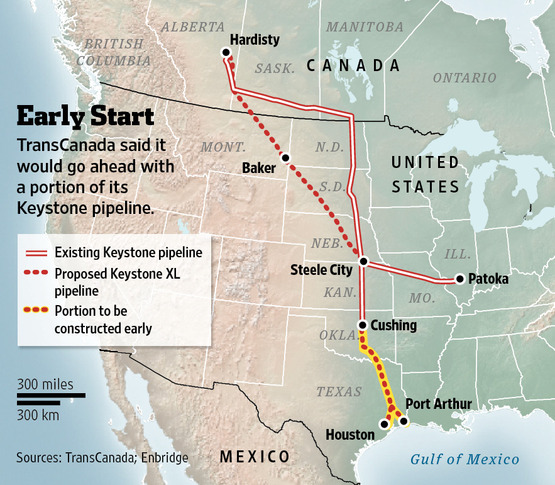 Even with the new Keystone construction, however, Oklahoma's oil overload might remain a problem for the industry. The Wall Street Journal quotes a Transcanada executive who believes that alleviating the buildup will require new pipelines able to ship 2 million barrels of oil a day. Aside from Keystone XL, the owners of another major pipeline are planning to reverse its course, allowing it move it about 400,000 barrels a day to the Gulf by next year. But combined, they still won't bring the infrastructure close the necessary 2 million barrel mark.
Photo: Lois Parshley / The Atlantic 
>