The Jobs University: How to Turn Our Schools Into Engines of Innovation
Should the role of college change? Holden Thorp, chancellor of the University of North Carolina, thinks so. That's why he's dedicated to transforming his school into a laboratory for entrepreneurs.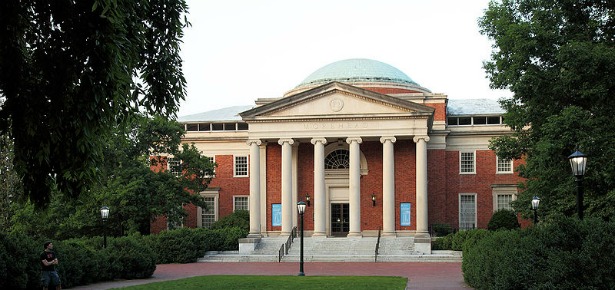 UNC/Reuters

CHAPEL HILL, NORTH CAROLINA -- At the age of 17, Holden Thorp placed fifth in a nationally televised Rubik's cube competition on the ABC show That's Incredible! At 24, he received a doctorate in chemistry from the California Institute of Technology after studying for three years instead of five. And at 43, he was named chancellor of the University of North Carolina, becoming one of the country's youngest university presidents.
Today, Thorp is trying to turn this 29,000-student public university into an engine of economic innovation. A business owner who has twice launched $25 million pharmaceutical startups, Thorp has streamlined the process for faculty members to turn their discoveries into private companies. He has made "entrepreneurship" a minor for all undergraduate students.
And Thorp has co-written a book, Engines of Innovation: The Entrepreneurial University in the 21st Century, with the university's "entrepreneur in residence" -- a former venture capital banker. It calls for the top 125 U.S. research universities to revitalize the American economy.
"The jobs of the near and distant future," he told me, "are going to be for those who create them for themselves."
As high-paying jobs have flowed overseas, American universities are being increasingly seen as economic engines for states, regions and the country as a whole. Across the U.S., communities with universities and colleges fared better economically during the recession than those without, according to the Wall Street Journal. And as other employers have disappeared, universities and colleges are increasingly considered sources of economic -- as well as intellectual -activity.
Here in Chapel Hill, UNC spends $2.4 billion a year and employs 12,000 faculty and staff. Together with nearby Duke and North Carolina State, UNC completes "The Research Triangle," a hub of universities, research parks and 30,000 small businesses that have helped make Raleigh-Durham the fastest-growing metropolitan area in the United States, increasing in population by 40 percent between 2000 and 2009. One business magazine predicted Raleigh-Durham will be the country's fastest-growing metropolitan area through 2025.
Beneath the positive regional trend runs a grim truth. Thorp's efforts to reimagine UNC are being driven by staggering funding cuts. Since 2008, UNC has lost $230 million in state aid, cut $50 million in costs, increased class size and frozen faculty pay. One reason for making it easier for professors to start businesses is to slow the number of faculty leaving UNC, often for better-paying private universities with multibillion-dollar endowments. As in other parts of American society, academia is splitting into the flourishing haves and the struggling have-nots.
Most troubling of all, UNC, long a model of affordability and excellence, has sharply increased tuition over the last decade. Since 2000, tuition and fees have risen by 150 percent for students across North Carolina's university system. And despite protests from students, parents and fomer trustees, UNC's board is expected to approve another tuition increase tomorrow. The situation is not unusual. Across the country, the state university funding model is collapsing.
Thorp argues that UNC and other state universities play a vital role in preserving the American middle class. For the 11th consecutive year, Kiplinger's recently ranked UNC as the best-value public university in the United States. Its $7,009-a-year in-state tuition is the second lowest of leading state universities. Only 35 percent of its students take student loans. And the average post-graduation student debt burden is $15,500. UNC is an engine of social mobility, Thorp argues, that helps prevent the middle class from splitting.
"You stop it through access to education," he said. "We've got the best financial aid profile in America."
After providing billions of dollars in research grants to universities, members of Congress, foundations and taxpayers are demanding that academics do more to address real-world problems. Economists argue that the United States must combine its two strongest remaining economic assets -- the world's best research universities and venture capital system -- to reinvent the American economy.
"The bill has come due," said Buck Goldstein, Thorp's co-author and the UNC's "entrepreneur in residence." "All of the stakeholders are demanding more impact." (A business Goldstein founded was later purchased by Thomson, the parent company of Reuters.)
Some academics deride the approach. They say that encouraging professors to create "spin-off" companies is the latest example of a gluttonous private sector devouring public resources. Business pursuits divert resources from pure scientific research, graduate students are used to help professors start businesses and researchers distort studies involving subjects where they have a financial interest.
Thorp and Goldstein insist they are not backing the commercialization of academia. Their definition of entrepreneurship is a broad one, they say, that includes social entrepreneurship.
"It's not Donald Trump," Goldstein said.
Former Harvard University President Derek Bok, whose book Universities in the Marketplace: the Commercialization of Higher Education, looked at the phenomenon, said those abuses have so far occurred only on a small scale. He called for strict vigilance of faculty business ventures -- but also for a lowering of expectations. Bok cautioned that universities are not "some kind of magic bullet that is going to do a whole lot for America's competitive position" in the world economy.
Private companies started by professors and researchers fail at the same rate as other firms, according to Bok. Universities receive royalties for intellectual property developed by their staff, but aside from MIT and Stanford, the payments total only a few million dollars a year. Thorp's first $25 million startup, in fact, went out of business.
A handful of academic blockbusters do exist. The top earner is an anti-AIDS drug developed by professors at Emory University. Second is Gatorade, a drink developed by professors at the University of Florida to hydrate its football players.
Thorp cited UNC chemistry professor Joe DeSimone as a best-case scenario. Last year, a private company DeSimone founded with the help of his university research received a $10 million investment from the Bill and Melinda Gates Foundation. The funding will help the company, Liquidia Technologies, develop new vaccines for malaria and other diseases. The startup also works with Procter & Gamble and other multinationals.
A visit to the company's gleaming, new high-tech offices provides a glimpse of the potential of UNC's model. Ben Maynor, a 37-year-old North Carolina native with a Harvard undergraduate degree and a doctorate from Duke in chemistry, said he assumed he would have to move to Boston or Silicon Valley to find work. Instead, Liquidia allowed him to stay home. The company employs 50 people and hopes to expand in North Carolina, not overseas.
"We have a new social contract with society," said DeSimone, referring to the federal research grants universities receive. "Those dollars are precious. We've got to funnel them into solving some of the world's biggest problems."
Thorp is right. Universities must change. We can no longer afford to have our greatest thinkers enjoy the "life of the mind" in isolation. The question is whether their gifts can meet the needs of a beleaguered society.
This article also appeared on Reuters.com, an Atlantic partner site.