The Dis-United States of Gas Prices: Why Fuel Is So Cheap in Denver
Thanks to America's overwhelmed oil pipelines, some lucky drivers in the Rockies are getting a big discount on gas.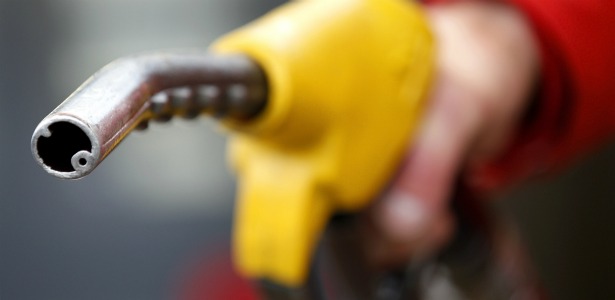 Reuters
Right now, it's very, very good to be a commuter in Colorado.
Gas prices have been on the rise for the past two months, as the international game of chicken between the West and Iran over Tehran's nuclear program has sent global price of crude oil up above $120 a barrel. In California, an average gallon of fuel now costs more than $4. In New York, it's about $3.90. Even in Houston, the gas-pumping heart of U.S. refining capacity, motorists are paying more than $3.50. The run-up has many contemplating whether gas prices could break the U.S. economic recovery, as they nearly did in 2011.
Yet up in the Rockies, as well as in parts of the Midwest, motorists have been getting spared, relatively speaking. As the map below from Gas Buddy shows, prices in states such as Colorado, Idaho, and Utah are lagging well behind the national average of $3.65. As the U.S. Energy Information Administration points out, prices in the Rocky Mountain region were actually falling towards the end of January, even as the rest of the country saw average fuel costs tick up.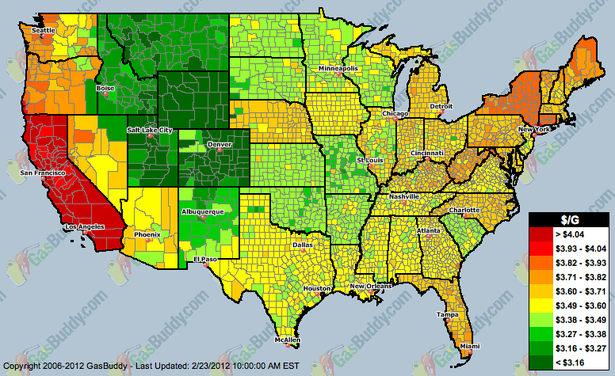 It's not unusual for U.S. gas prices to vary by region, sometimes drastically. All sorts of factors come into play, including local regulations, taxes, and the distance from the nearest refinery. But those aren't the reasons behind the big discrepancies we're now seeing in American gas prices. There's a much bigger issue at play that speaks to the strange state of the country's oil supply.
Right now, the United States has a big glut of crude oil sitting in the middle of the country, and no easy way to move it. The combination of surging production from Canada's tar sands and North Dakota's Bakken region has overwhelmed the existing pipelines to the Gulf of Mexico, where it would ordinarily be refined and shipped onto the global market. As a result, the price of American and Canadian crude oil is trading at a steep discount to varieties from elsewhere in the world. After all, with fewer potential customers, oil buyers can dictate friendlier prices. West Texas Intermediate, which is traditionally considered a benchmark variety of crude used to price other types, is selling for about $106 a barrel. But according to Oil Price Information Service analyst Tom Kloza, oil from North Dakota has recently been selling for around $83 a barrel. Canadian crude has been trading for even less.
"I've never seen anything like it, this kind of [price] diversity," Kloza told me.
The big beneficiaries of this strange situation have been refiners in the West and Midwest, who get cheap oil, while refiners on the coast have had to continue importing the most expensive varieties from abroad. According to the EIA, before 2011, refineries in the Rocky Mountain region paid about $3 less per barrel of oil than the national average. By November of last year, they were paying  $16 less. Those discounts get passed on to drivers in places like Denver, where gas is currently averaging $3.12 cents a gallon.
That good fortune might soon be coming to an end, however. Owners of the Seaway pipeline are planning to reverse it's flow in June, which will allow it to begin shipping 150,000 barrels of  oil a day from Cushing Oklahoma, where most of that Canadian and North Dakotan crude is currently sitting, to the gulf. Eventually, it will be able to ship 400,000 barrels a day. If the new pipeline capacity can ease the backup enough, it means prices will rise. Goldman Sachs is now urging investors to go long on American crude futures. In other words, the bank is telling it's customers to buy cheap while they still can.
And no, in case you were wondering, unlocking that big supply of oil won't do much for gas prices on the coasts. It'll just make American and Canadian oil equally expensive as the stuff drilled up in Nigeria and Saudi Arabia. It'll also mean higher gas prices in the middle of the country. So those commuters in Colorado will finally be suffering with the rest of us.
>