The Amazing Swing State Recovery and Why It (Probably) Doesn't Matter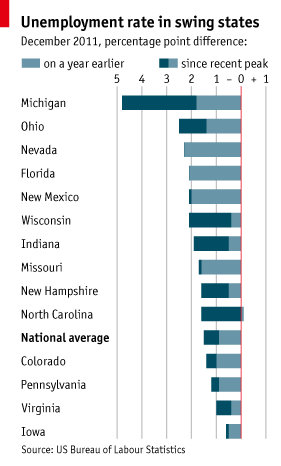 Knock on wood, the labor market is moving into full-on recovery speed. The national unemployment rate has fallen to 8.3 percent, and initial jobless claims continue to press below the bright white line of 400,000. Things aren't simply getting better. They're getting better faster.
The Economist's Ryan Avent produces this chart (right) on unemployment change in the swing states and finds that almost all the key states are either improving faster than the national average or else have lower unemployment rates than the national mean.
Should we care? Maybe not. State data is of limited use to forecasters. "People's assessments of the national economy are more strongly related to their vote than are their assessments of their own personal finances," John Sides wrote in a post at The Monkey Cage. National fundamentals drive national elections:

Voters believe the president has little effect on their local economy, and they do not form their evaluation of the national economy based on surrounding conditions. This finding suggests that people form their opinions of the national economy based on non-local factors, such as the national media.

"Fundamentals drive elections" is something people like me like to say. It's short for: "Political maneuvering is exhausting, the message war is endless, and the Faster Feiler Effect makes momentum a meaningless concept, so if you're pressed for time but want an accurate-ish forecast for November, just look at the economic fundamentals."
But which fundamentals? That's the million-dollar question. According to political scientists, unemployment rates don't matter as much as income growth and GDP expansion just before the election. The upshot is that the health of the economy isn't as important as the rate of improvement in the economy just before the election. This isn't so surprising. Unemployment under Bush never came close to 7%, and he fell behind Kerry in some polls in 2004. If unemployment dropped to 7% in September 2012, it would be the result of a spectacular economic turnaround that would make this election a very boring runaway victory for President Obama.
If you want a better idea of whether Obama has an advantage in the fall, wait a few months. Confidently forecasting the 2012 election in the second week of February is like confidently predicting November's snowfall. The relevant weather patterns have hardly formed yet.