The Amazing High-Speed Rise of the App Economy
In 2006, the term "App" as we know it did not exist. Today, the App Economy accounts for $20 billion in annual revenue, and it's responsible for about 466,000 jobs in the US, according to a new study, "Where the Jobs Are: The App Economy," which was just released by Technet.
What's an app job, exactly? Atlantic contributor Michael Mandel explained:

The total includes jobs at 'pure' app firms such as Zynga, a San Francisco-based maker of Facebook game apps that went public in December 2011. App Economy employment also includes app-related jobs at large companies such as Electronic Arts, Amazon, and AT&T, as well as app 'infrastructure' jobs at core firms such as Google, Apple, and Facebook. In additional, the App Economy total includes employment spillovers to the rest of the economy.
There are 155,000 pure tech app jobs in the country, Mandel calculated. But companies cannot live by computer engineers alone. As a firm expands, it adds sales and marketing and HR jobs that keep the company humming while the techies are coding. Adding these positions, he puts App Economy workers at 311,000. Multiplier effects bring the total above 400,000. The top city for app economy workers is New York, which accounts for 9% of the app jobs. Another 15% are in San Francisco (8.5%) and San Jose (6.3%).

Is 311,000 jobs a lot? Well, it's bigger than the online journalism industry, or the software publishing sector, Mandel says, producing the following chart: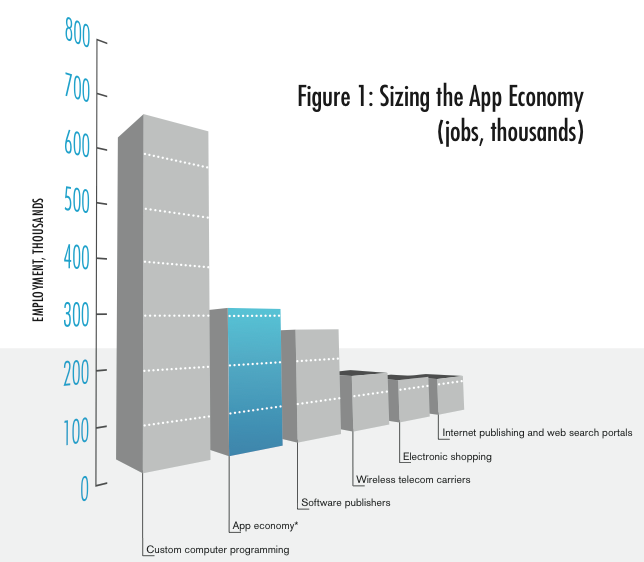 A third of a million jobs is nothing to scoff at, but it only represents 0.2% of all workers. It certainly leaves a lot of room for growth. Fully 44% of Americans own a smart phone according to polling by Nielsen in December 2011, which is summed up in the infochart below. Among those between 25 and 34, smartphone penetration is 63%, more than twice the share from 2009.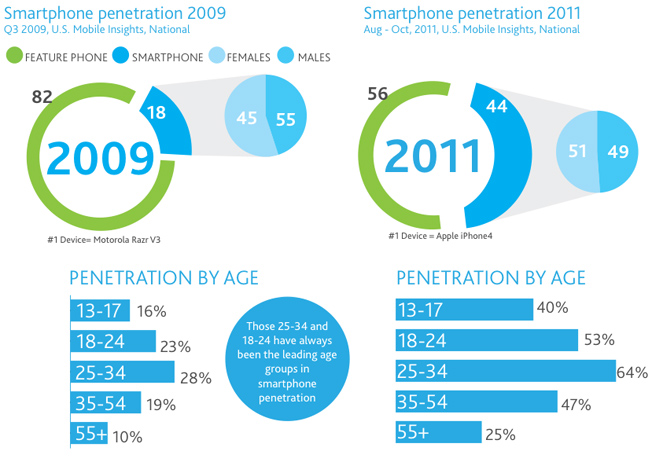 As smartphone penetration rises, app-economy revenue will grow, which will encourage more venture capitalists to back app economy entrepreneurs, which will in turn encourage more entrepreneurs to move into the app economy. All this is to be expected, and it's all good news.

But the real breakthroughs in app innovation will probably come from the unexpected. We're only beginning to scratch the implications of a GPS-powered super-computer in our pocket. One can imagine, for example, a breakthrough innovation in personal-health monitoring, where our smart phones act like a pocket-nurse, periodically checking our vitals, reminding us to exercise and to take our medicine, and alerting doctors when something is wrong. It's this sort of Black Swan breakthrough, where investments in the App Economy feed into investments from the medical and biotech economy, that has the potential to take off in ways that will make today's apps look like they were developed in the stone age of smart phones.

>