Texas Is Losing Its Longhorns
No, not the football team. In the midst of a massive drought, the state's cattle ranchers are fleeing north to -- literally -- greener pastures.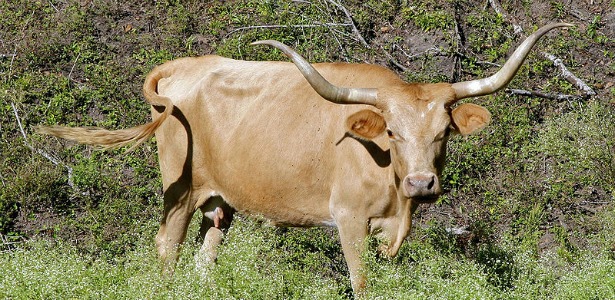 Wikipedia
Texas is now suffering the second year of its worst drought in a century, and according to Reuters reporters P.J. Huffstutter and Theopolis Waters, its ravages are now causing the unthinkable to happen: Cattle ranchers are giving up on the the Lone Star State and heading north.
Texas is America's cattle-ranching capital. But according to Reuters, the parched conditions in the state are forcing many ranchers to rapidly sell off their livestock. As a result, the U.S. cattle herd is now the smallest it's been in 60 years. The vanishing supply of cattle has driven up beef futures prices 20% since 2009.
But rather than liquidate their steer herd, many ranchers are simply moving on to greener pastures, particularly in Nebraska. As Texas' cattle-count shrank by about 1.4 million, or 11%, last year, Nebraska's jumped by 4%, or 250,000 head. The graph below shows the redistribution of herds away from the South and Southwest.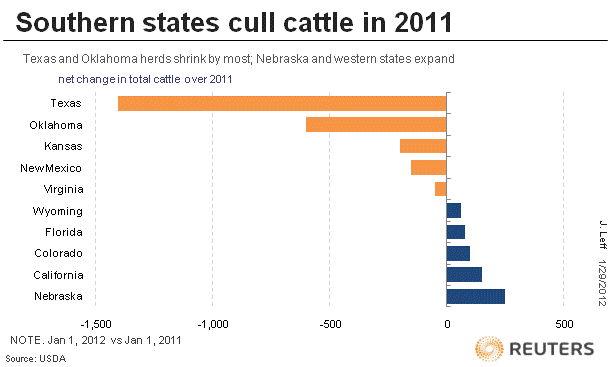 The Texas drought, which scientists are attributing to La Nina conditions in the Pacific, caused at least $5.2 billion in damages to the state's agricultural sector last year. Worse yet, relief might not be coming any time soon. The state's climatologist predicted the dry weather could last until 2020.
>