Sheryl Sandberg Proved Herself With Summers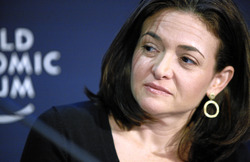 Over the years, I have met Sheryl Sandberg in and around DC but not in some time, when I seemed to have had a long blink, only to discover now that she is one of the first women to break into the Silicon Valley nest of billionaire guys.
She has become a huge force lifting the horizons of what women may think is possible of themselves.  Making roughly $1.6 billion in 42 months must be some kind of record.  New billionaires rarely take time so quickly to invest in the hearts and minds of others -- and that seems to me what Sandberg is doing.  She has my applause for it.
But I had to say that I should have tried to buy stock in her when I was reminded of something the New York Times reported yesterday:
But none have made promoting women a cause the way Ms. Sandberg has. . .Everyone agrees she is wickedly smart. But she has also been lucky, and has had powerful mentors along the way. After Harvard and Harvard Business School, she quickly rose from a post as an economist at the World Bank to become the chief of staff for Lawrence H. Summers, then the Treasury secretary. After that, she jumped to Google and, in 2008, to Facebook.
What I had forgotten was that, of course, she was Larry Summers' Chief of Staff at Treasury -- and in all of my encounters with Summers since 1994, he seemed more in control of his game and message (one that I often disagreed with) than at any other time I had watched him in action.
Clearly, Sandberg gave order and discipline and imposed a 'game plan' on Lawrence Summers -- who must be just in the person he is one of the greatest challenges possible for an "organizationalist".
We should have known then what heights Sheryl Sandberg would reach -- and there is probably much more ahead.