Roses Are in the Red: Why Local Florists Are Fading
Thanks to the Internet, grocery stores, and the recession, local flower shops are in peril.
Local flower shops are in peril, thanks to the Internet, grocery stores, and the recession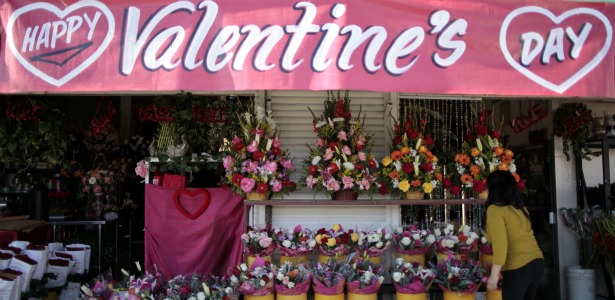 Reuters
A question for the gentlemen* out there: When you leave work today and stop off to buy your special someone a Valentine's Day bouquet of flowers, will you:

A) Make the trip to your local florist and plunk down some unfathomable sum for a dozen perfect roses?
B) Pop into the grocery store and grab a decent enough looking bunch along with a bottle of wine?
C) Hope you find one of those street vendors selling bouquets that look like they fell off the back of a truck?
D) None of the above, because you had a little foresight and called 1-800 FLOWERS a week ago?
If you're like a growing number of Americans over the past few recession-racked years, chance are you answered anything but A. After all, few people wants to go out of their way to spend an extravagant amount on a gift that will be dead within days. And therein lies the problem for the mom and pop florists who have been selling us our Valentine's Day roses for years, and now find their business model drooping.
The exact figures differ depending on the source, but over the last decade, the number of local flower stores in the United States has been thoroughly pruned. According to the Society of American Florists, there are now 25% fewer storefront shops than in 1999. Analysts at market researchers IBISWorld say the industry has shrunk by 16 percent since just 2007. Revenue has been dropping for a decade. And while some business owners have tried to consolidate and streamline their operations by closing stores, others have just packed up their shears and called it quits.
Brick and mortar florists, about 86% of which employ no more than four workers, have suffered from many of the forces that have undone other small businesses. First came the large grocery stores, which put price pressure on the industry by stocking cheap flowers customers could grab on the run and arrange at home. Then there was the Internet, which allowed companies like Teleflora and 1-800 Flowers to eat an ever-growing market share. These online networks fulfill most or all of their orders by contracting them out to local flower shops. But they cut into small stores' profits by charging membership fees to become part of their vendor network, while still requiring them to cover the cost of warehousing and distribution.
Then there was the recession. Almost nothing says "I love you" like a bouqet of flowers, but there also might be nothing easier to cut from a tight household budget. According to IBISWorld, the economic downturn forced some shops to slash prices anywhere from 60 to 70 percent in order to support sales. Customers have since become used to those discounts, which is making it tougher to raise prices back up to.
The end result: IBISWorld estimates that profit margins have gone from 2.7% five years ago, to just 1.2% in 2012. As they put it in a recent report, the industry is "wilting."
Those florists which have survived the downturn are trying to find ways to modernize their businesses. For instance, the Floral Logistics Corporation and several regional trade groups have tried to computerize and standardize the flower supply chain, making it easier and cheaper to order, ship, and handle their roses, tulips, and orchids.
Still, the industry is a thorny place. The Bureau of Labor Statistics expects the number of florists to continue shrinking. IBISWorld predicts the number of stores will do the same. The competition isn't going away. Because in the end, a rose, whether you bought it on the Internet or at Whole Foods, is still a rose.
______________________
*Feel free to sub-in any gender pronouns you'd prefer.
>