Rick Santorum Is Right: Gas Prices Caused the Great Recession
... but it was one of many factors!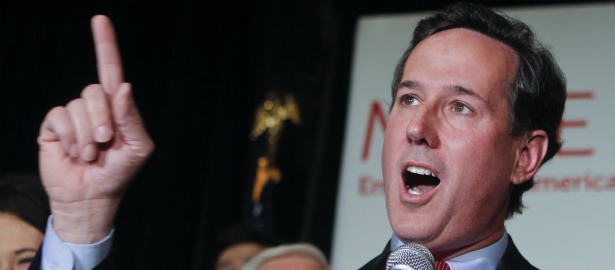 Reuters

"We went into a recession in 2008. People forget why," Rick Santorum told an audience recently. "They thought it was a housing bubble. The housing bubble was caused because of a dramatic spike in energy prices that caused the housing bubble to burst ... People had to pay so much money to air condition and heat their homes or pay for gasoline that they couldn't pay their mortgage."

This sounds stupid to some writers. (Most of these writers were more likely to find Santorum stupid before he made that comment.) But it's not very stupid, at all.
In 2009, economist James Hamilton published a paper that retroactively forecast what an oil shock, like the one we experienced in 2007-08, would do to GDP. And guess what? His model accurately predicated much of the collapse in GDP that resulted from the Great Recession -- as if there had been no housing bubble or financial crisis! The oil spike was that bad.

Still, there was a housing bubble. And there was a financial crisis. How do we account for them and still hold onto the gas story? Here's a one-paragraph theory of the Great Recession that begins with gasoline. Cheap gas ruled in the 1990s. This encouraged families to settle down farther from the cities where they worked. In the 2000s, super-low interest rates, declining lending standards, and an appetite for mortgages on Wall Street (among other factors) further encouraged sprawl and residential development in the 'burbs. As the price of gas went up, families stopped buying homes 30 minutes from the city. For folks shacking up in the exurbs, higher gas bills ate into mortgage money. For companies, higher energy bills shocked productivity. Classic oil-shock + housing development arrested + financial crisis = Great Recession.

There appears to be pretty strong correlation (if not causation) between national gas prices, which accelerated after 2005, and housing starts, which declined after 2005. Here's a graph of gas prices and housing starts indexed in the year 2000 (I've pulled back the lens to 1990).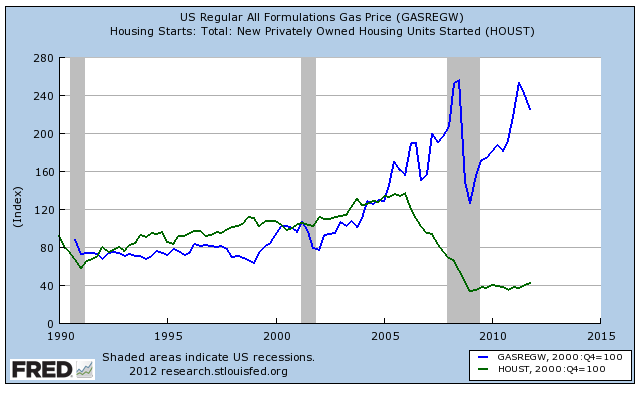 Santorum's mistake isn't in thinking higher gas prices mattered. Of course energy prices matter. Low energy prices contributed to the housing boom, just as $4 gas probably pricked the housing bubble. But his mistake is in thinking it was the only factor.

>