No Business Like Snow Business: The Economics of Big Ski Resorts
Don't be confused by the soft powder. Ski-nomics at Vail and Whistler/Blackcomb is a hardened and savvy industry. Meet the mile-high strategies that keep America's largest ski resorts in the black.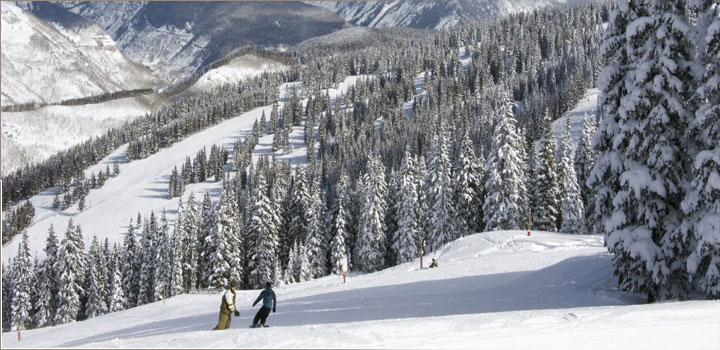 Vail
The view is best from the top. It's the moment you disembark from the chair lift that's borne you over the boulevards of snow carved with "S"-shaped grooves. Some skiers cherish the first morning vista, in the thin and freezing air, before they tighten their boots and point their twin sheaths of metal down a vertical field of white. I prefer the last run, wobbly and a little reckless, down the peak's backside at three o'clock, toward the room with a fire, a hot mug, and a bag of ice. These moments, and the many between them, inspire 60 million cumulative ski- and snowboard-days, adding up to a $3 billion businesses in the U.S.
To those millions of skiers, Robert A. Katz would like to say,
Thank you
. And also:
You're welcome
. Katz is the CEO of Vail Resorts, the largest ski resort company in the United States and the proud owner of America's most popular mountain, Vail.
When I called Katz in January, the conditions on the slopes were dire. Vail Mountain was suffering its
driest winter in 30 years
, and, for the first time in more than a century, there was no snow in Tahoe, a California peak also owned by Vail Resorts.
Snowfall had declined more than 80 percent, but visits were down only 15 percent. Even more surprising, annual revenue hadn't declined at all, even though Vail got an all-time record of 525 inches of snow in 2011. (The day I called, Vail's count had barely hit 100.) How, I asked, do you build a stable business around something as unpredictable as snowfall?
His answer: Make your business about much more than snowfall.

SKI-NOMICS 101
To understand the new economics of the ski and snowboard industry, start with the two behemoths. First, there's Vail Resorts, the king of U.S. skiing. To find the second, trace the Rocky Mountains north and hitch a left at the Canadian border.

There is only one ski resort in North America larger than Vail Mountain. Eighty miles north of Vancouver, tucked in the British Columbia Coastal Mountains, the Whistler/Blackcomb resort is the colossus of ski destinations. Across the two peaks -- Whistler and Blackcomb are separate mountains connected by a gondola -- the park has more skiable area, more average snowfall, more trails, more lifts, and a higher vertical drop than any other mountain on the continent.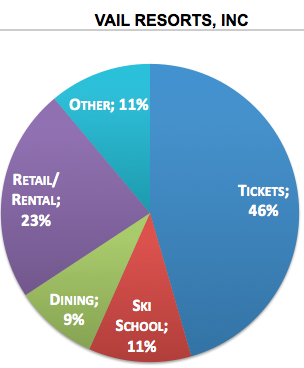 What Vail and Whistler have discovered is that lift-tickets -- that is, passes to ride the chairs up the mountain -- will always provide the foundation of ski-nomics. But a resort that offers only skiing is a terribly risky business model -- like a snow farmer whose yearly harvest is only as good as the snow crop.

Instead, both Vail and Whistler have devised and refined a business that keeps income as constant as the weather is variable. It comes down to two smart hedging strategies. Strategy One: Own the skiers. Strategy Two: Own the mountain.
Vail and Whistler hedge against bad snow by turning skiers into members. "Just under 40 percent of our lift tickets come from season passes sold before the ski season begins," Katz told me. For just under $700, skiers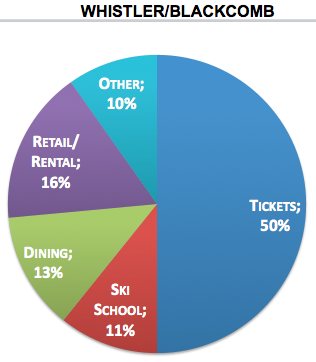 can buy the Vail Epic Pass, which offers total access to all six Vail Resort mountains.
"Some people think we're crazy," Katz said. "After all, one day's lift ticket is $100, and some of these people will ski 30 days, or 40 days." Why would Vail give its most die-hard skiers a 90% discount?
Because, they own the mountain. Vail and Whistler make half their money from lodging, rentals, snow school, and food (see charts). Even when die-hard skiers and snowboarders get a free pass to the mountain, they're still sleeping in Vail's beds and eating Vail's food.
"Creating packages is fundamental to our business," said Kevin Smith, executive vice president and CFO of Whistler/Blackcomb. "Especially if families pre-commit to a package that includes lift tickets, lodging, and ski school, we lock up that business before the snow falls."
Vail and Whistler are considerably more profitable than large ski resorts in Europe precisely because they've embraced mountain monopolies. In Europe, the mountain is like a strip mall, with restaurants, rental shops, and service centers mostly owned by different companies renting space. At Whistler and Vail, the mountain is more like a cruise or amusement park, where vertical integration means
vertical
integration. From village to peak, Vail and Whistler own all the key businesses -- equipment rentals, food and beverage, and snow school.
Maybe the best analogy to ski resorts is the casino. There's a core gambler like there's a core skier. Some people hate gambling, like some just want to keep their boots on. The job of the casino or ski resort to give these people a reason to come, anyway. The same way
casino designers
are meticulous about designing a floor plan that is more likely to get patrons gambling, mountain planning requires a specialized understanding of the the ski experience and how the guests will experience a terrain. It means moving traffic away from environmentally sensitive areas and toward lifts. It means clearing space for wide-open vistas and putting challenging runs near cruisers, so families with varying skill levels can follow their paths of choice and arrive at the same place for lunch.
"With the right design, skiers come down the mountain like water," Katz said.

WARNING: AREA CLOSED
In 1980, something strange and unique happened. A ski resort opened. Beaver Creek, near Vail Mountain, powered up its chair lifts after three decades of planning in the '80-'81 season. That was the last major ski resort to open in the United States.
Environmental regulations now pose a huge barrier to building new ski resorts in North America, according to multiple ski resort insiders, some of whom declined to speak on the record. The biggest ski areas are on U.S. Forest Service land, which makes them subject to strict regulations governing commercial development. As a result, most investors looking to start a ski resort from scratch are looking abroad to China, Japan, and South America.
"It's pretty much impossible to open a new major ski resort now on account of it cannot be in conflict with the environment. It also takes a long time to build community support. Once you get to that point, it's still takes decades to design the ski experience and build the resort," said Katz, who stressed that he supports the spirit of the environmental rules.
Even without environmental regulations, it's not clear who in their right mind would try to build a new resort from scratch. "You have to spend $150 million before you get the first toilet to flush, let alone the lift infrastructure," Kevin Smith said.
From a ski-nomics perspective, less competition insulates a stable and growing industry. As skier visits rise annually, Whistler and Vail can afford to raise ticket prices by a tick above inflation knowing that there's no chance of disruptive competition from a new entrant.

The most surprising aspect of of ski-nomics might be its dependability. A ski mountain is beset by the most capricious of variables, as cloud drift, precipitation levels, and temperature must coordinate for skiiers to get their precious powder. But Vail and Whistler/Blackcomb's business isn't beset by anything like the variability of mountain weather. That makes their fortunes less like the iffy snowfall and more like a seasoned double-black pro flying down the open boulevards of snow -- seemingly on the edge of his skis, and somehow always upright, all the way down the mountain.