How Much Does it Cost to Become College Sports's Biggest Program?
The Baylor Bears are dominating in football and men and women's basketball. The price of instant greatness? Just $60 million a year.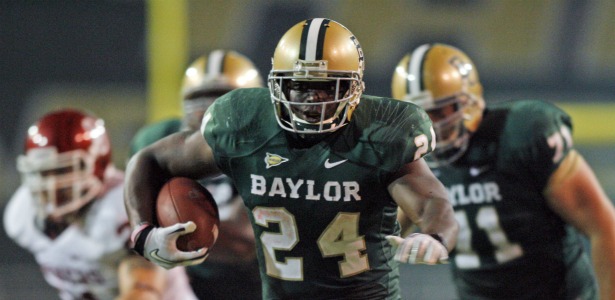 Reuters
Baylor University, long the runt of the Big 12 college sports division, is in the midst of an athletic renaissance. In 2011, the face of its success was Heisman trophy-winning quarterback Robert Griffin III, who led the Bears to a top 25 finish and a thrilling win in the Alamo Bowl. But as The New York Times writes today, the NFL-bound star is just one piece of the mounting evidence that Baylor has, to the shock of many, transformed itself into one of the country's elite college athletics programs. At least ten of its teams were nationally ranked between November and mid-January. Its women's basketball team is tops in the country, and its men's squad is a respectable number nine.
Winning hasn't come cheap, though. The Times notes that in the dog-house days of 1995, the school's entire athletic budget was a paltry $7.5 million, or roughly $11.1 million in current dollars. Today, that would hardly cover its coaching salaries. The school spends roughly $60 million on athletics, as illustrated in the chart below from the U.S. Department of Education, which tracks spending at university athletic programs. Its football team alone costs more than $14 million to operate.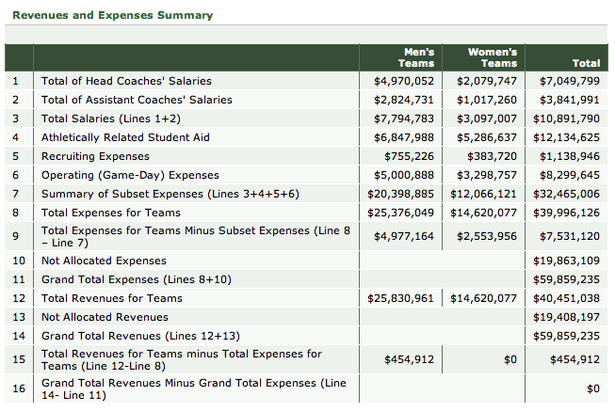 Baylor's tremendous investment inevitably raises questions about the value of a big time college sports program for a university that, traditionally, hasn't had much luck on the field. The government's data makes it difficult to tell how much any one school loses on athletics, because it lumps together revenue teams generate themselves from sources like ticket sales with money the administration gives them to cover any shortfalls. But when a team, like Baylor, ends the year breaking exactly even, it means the administration has likely papered over operating losses with extra funds. And as I've written before, schools that pour money into sports in the hope that athletic success will raise the school's profile are making a very uncertain bargain.
The research suggests there are both upsides and downsides to having a winning football or basketball team on campus. A college might get more student applications, for instance. But once they're on campus, students grades might suffer from a sports-heavy party atmosphere. The point is, there are tradeoffs. Meanwhile, the investment schools make to obtain the benefits of a winning sports tradition can be massive. According to the Times, Baylor athletics raised $95 million between 2005 and 2010. Its currently looking to raise another $250 million for a new football stadium.
While it's impossible to say for sure, there's a chance much of that athletic giving could be happening at the expense of the rest of the school. Some would argue that wealthy donors, especially in states like Texas where college football really is its own religion, are more likely to bankroll a new stadium than a library. Still, by seeking millions for a new field, a school might well tap out alumni who could otherwise contribute towards the school's academic mission.
But maybe we should be concerned less for Baylor, and more for the schools that try to imitate them. Let's say the Bears have found the recipe for a winning sports program that will one day be able to mostly support itself, even after its massive capital expenses. Not every university will be so lucky. A landmark study commissioned by the NCAA found schools that increased their spending on athletics didn't necessarily win more games. It also found that teams which improve their records don't necessarily generate more revenue. Building a successful team that covers its costs, in other words, is supremely difficult.
There can only be so many winners in sports, on the field or financially. Perhaps Baylor will triumph on both fronts. The next school that tries to follow their lead might not.
>