How Bloomberg Businessweek Comes Up With Its Awesome Covers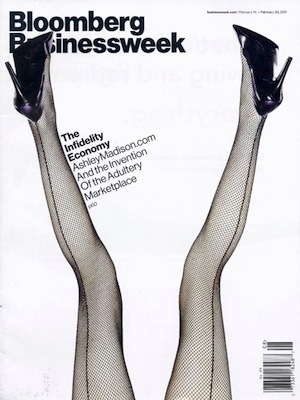 Who looks at an massive airline merger and sees two planes humping? The same team that turned Khadaffi's demise into
street art
, put a woman on her back to advertise infidelity, dressed a woman in memes to sum up the year in
popularity
, and (nearly) did
this
to Mitt Romney's face.
The team at Bloomberg Businessweek is doing a lot right these days, but their covers are the pièces de résistance of the magazine's new look.
Adam Clark Estes from The Atlantic Wire caught up with Bloomberg Businessweek creative director Richard Turley to talk about favorite cover images, and the secrets to the fantastic and clever images.
Here's an excerpt from their chat:
Tell us more about that process.

Generally speaking it's just me and Josh Tyrangiel, the editor. We're generally very informal. I don't know if you know the geography of the office but we sit literally opposite each other and that enables us to talk and not to have meetings. The cover conversations happen quite quickly. Sometimes that's a product of our proximity. Sometimes we just email a bit and say something and come up with an idea. Most of the cover ideas come from him. It was Josh who said, "How about planes having sex for the cover?" And I was like "YES". Sometimes I get a bit too much of the credit. We have a good relationship. We have a good partnership. We disagree occasionally. But we know when we have a good idea and don't try to get in the way of it.

How much was Josh involved in the redesign process a couple of years ago?

He was there from day one. Norm Pearlstine recruited Josh and me. I think Josh started two or three weeks before me. It was from Josh's original sketch. Josh wrote quite the detailed essay to get the job here when he was applying -- what the magazine was, what we should be doing, and what the magazine should be. I took on the magazine's redesign very much on the back of that. From the orignal brief, it evolved and changed. He was completely instrumental. He was there all the time. It would've been this time of year two years ago that I came to Bloomberg in New York for the first time.

The redesign was underway two years ago. I think the redesigned magazine came out in April. We redesigned really quickly; it was a two to three month process. From then, it took a good six months to understand what the magazine was. That's always been the case, when I've been involved in redesigns. It takes a lot of time for people at the magazine to understand what you can do with the magazine, what can be achieved. it was almost a new magazine and it took a lot. There were a few moments that were important for me -- moments when we thought, "We're good at this we can do this now." We really started to become a good magazine at the end of the 2010.
Read the full story at The Atlantic Wire.
>