Government Employs 1 in 6 U.S. Workers—Where Are They?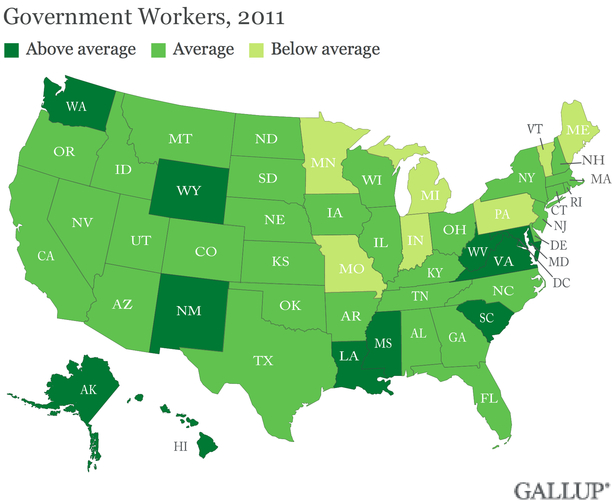 The government employs one in six workers nationwide, and at least one in nine workers in every single state, according to a
new Gallup survey
.
The states with the highest share of government employees -- and this is federal, state, and local, combined -- are the states farthest from and closest to the seat of government. Hawaii (29.7%) and Alaska (29.6%) are the most government-heavy states, while the District of Columbia, Virginia, and Maryland fill out the top five. All the way at the bottom is Pennsylvania at 11.8%. Here's the list of the top and bottom ten: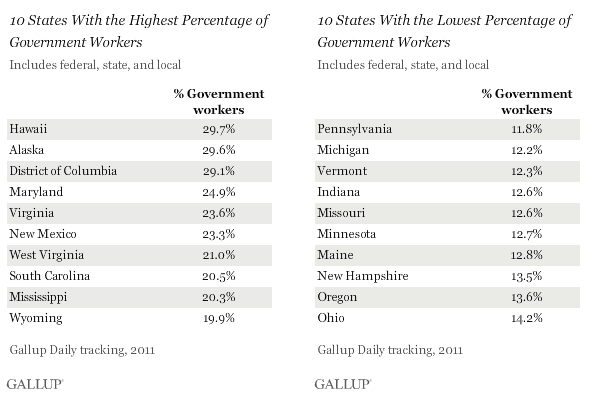 And, for a breath of context: Government employment is declining nationally by the sharpest annual rate since the 1940s. It's now
at 2006 levels and falling
, as I
wrote
(see graph below). You might consider this a good thing. Government isn't a particularly productive industry, even if most of its services are highly necessary, so you might like to see these workers move on to other sectors. The problem today is that they're not moving on to other sectors. For the past year, states have cut back by squeezing their payrolls and government has shed tens of thousands of jobs month after month while the overall economy barely grew at the pace of population growth. In the long run, "leaner government" might improve state economies. In the short run, it means more suffering for more than 100,000 formerly employed workers.