Celebrate! We Just Hit a Key Jobs Figure
Europe might be headed for a recession. China's growth looks like its slowing. The Middle East is, par for the course, in turmoil. And somehow, like a horse with with a particularly effective pair of blinders, the U.S. economy is pushing ahead along the road to economic recovery.
Today, the Labor Department announced that new jobless claims had fallen close to a four year low -- with 348,000 Americans filing for unemployment benefits. That's remarkably close to the 344,000 jobless claims that were filed the week of December 1, 2007, when the recession started. The four-week moving average was as low as its been since March, 2008.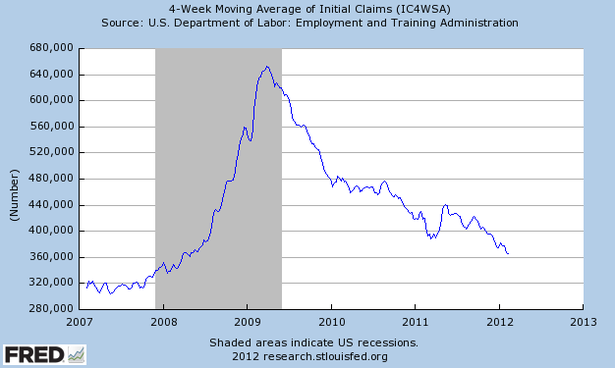 Economists polled by Reuters and Bloomberg had actually predicted that unemployment claims could rise. Instead, we got a pleasant surprise that reaffirmed that the U.S. economy is getting its footing. And as Reuters notes, when jobless claims fall below 350,000, it's usually a sign of sustainable employment growth. As long as the numbers stay around here, or drop further, the U.S. labor market should be in good shape.
Assuming the rest of the world doesn't get in our way, that is.
>