Barack Obama, Austerity President
Imagine an alternate reality where the first term of President Barack Obama coincided with one of the greatest periods of government austerity in recent memory. Imagine total government spending under his watch had the steepest annual decline in three decades. Imagine total government employees fell by the fastest rate in more than 60 years. Imagine that in his last two years, federal spending and federal employment grew by the slowest annual rate since the 1950s.
Now open your eyes. Welcome to Austerity USA. Total government employment -- that's federal, state, and local -- has indeed fallen by the sharpest annual rate since the 1940s. It's now
at 2006 levels and declining
.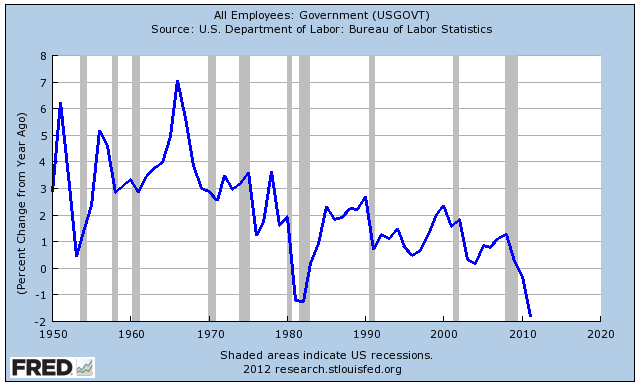 Total government spending has fallen by the sharpest rate since the 1970s. It is now at
2008 levels
and declining.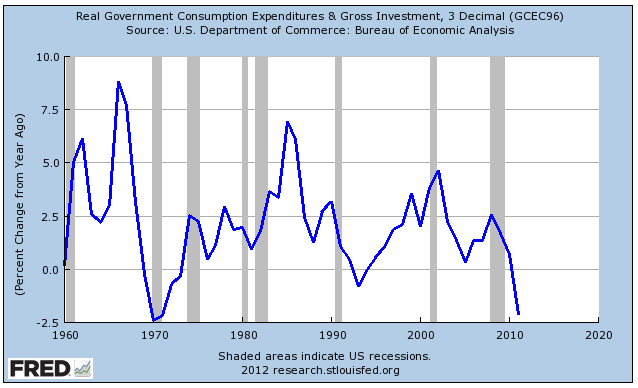 Meanwhile in Washington,
federal spending
(which has grown every year since then 1960s) is increasing at its slowest pace in half a century, and
federal employment
is in true decline. Eighteen months removed from the start of the Census, it's shrinking at its fastest rate since the mid-1950s.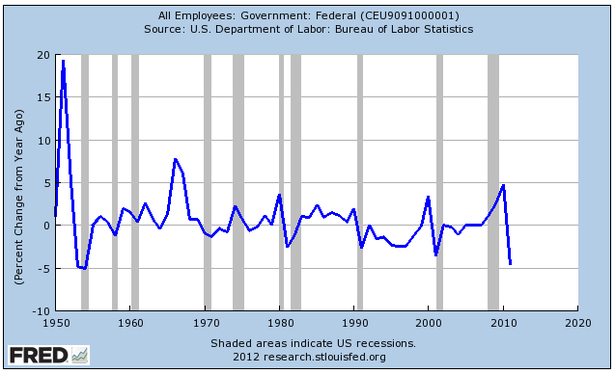 Obama's tenure has coincided with a recession that shrunk total government in two ways. First, the economics of the Great Recession devastated state and local government tax revenue, requiring rounds of cuts that resulted in decreased overall government spending and employment. Second, the politics of the Great Recession destroyed the case for stimulus in the aftermath of the Recovery Act, and Washington's attempts to fill the revenue holes in total government were blocked when we voted scores of fiscal conservatives into Congress in 2010. The upshot is that in the last 12 months, President Obama has presided over one of the most remarkable periods of total government austerity in the last 50 years.
Some of this austerity was given to us. Some of this austerity we chose.
As the Recovery Act, which was passed partly to offset state and local cuts, wound down, state and local government demand fell "through the floor," said Adam Hersh, an economist with the Center for American Progress.
"The real collapse of spending has been at the level of state and local public services and investments,"  Hersh said. "Even as the economy grew 4.2% since the start of the Obama administration, state and local spending contracted 5.2%." Here's the graph he shared with
The Atlantic.
The plunging green line tracks change in nondefense state and local spending since Obama took office.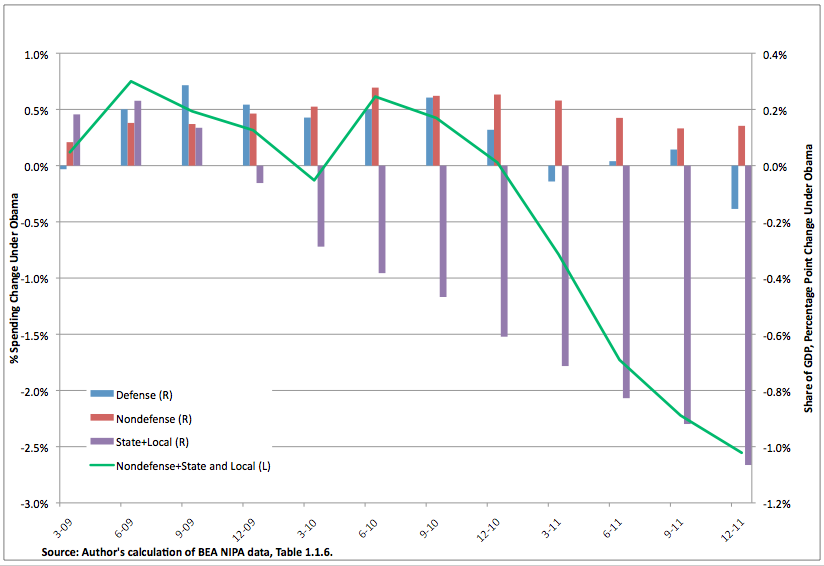 What's the matter with shrinking government? Nothing at all, you might say. State and local governments are expensive and inefficient, and those workers might be put to better use making things rather than regulating things. Fair enough. But with interest rates now at historical lows, it's a little surprising that we're choosing this moment to not borrow more money from eager investors to spare total government from its own sharp knives and make downpayments on things we know we need, like roads and broadband. President Obama isn't fully responsible for this era of premature and self-inflicted austerity. He's the president of the United States, not the states, themselves. But, for better or worse, it's his record now. Who would have guessed?
>