Athens Is Setting Itself on Fire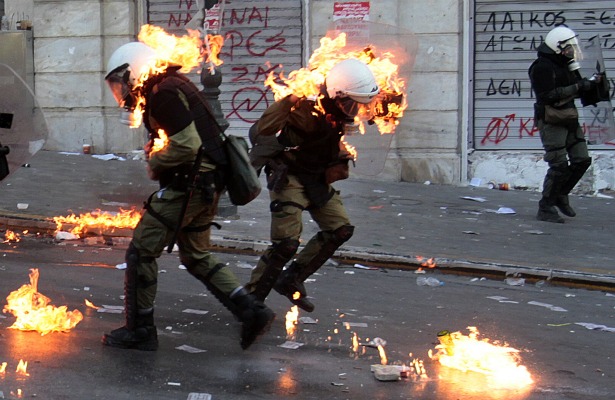 Police officers are set on fire in protests in Athens' Constitution Square/Reuters

With the backdrop of 21 percent unemployment across Greece -- and nearly 50 percent unemployment for its young workers -- Athens lawmakers voted overwhelmingly for another austerity plan that would slash the minimum wage by a fifth and lay off another 150,000 government officials over the next four years. In exchange, Greece has potentially cleared the way for an orderly default with its investors and created a path forward for new loans. Nearly 80,000 protesters responded by setting fire to the city:

Even as more than 40 buildings across Athens were set ablaze by angry protesters, the Greek Parliament passed a series of strict austerity measures meant to save the country from financial ruin. The package includes harsh cuts in the minimum wage and layoffs of over 150,000 government workers and are part of deal to secure bailout funds and debt forgiveness from foreign lenders. Despite the violence and chaos and angry debate in Parliament, the measure passed easily, mostly because the ministers who were opposed either resigned or were forced out of the country's two ruling coalition parties.

Protesters set fire to several historic buildings with petrol bombs and threw rocks at the house of Parliament. Police responded with tear-gas and bottled in rioters who responded with more fire bombings. Greek officials says that more 50 police officers were injured, while 70 others had to be take hospitals, and 45 arrests were made. Other cities also saw protests as disapproval spread across the country.
Read the full story at The Atlantic Wire.