World Bank to World: 'Prepare for the Worst'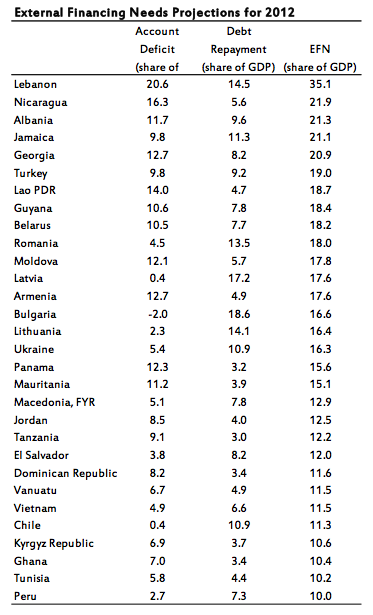 If the euro zone finally loses its grip on its super-slo-mo meltdown, the countries paying the highest price might not be the ones confined to the euro, according the World Bank's new morbid
report
on the global economy.
"Developing countries need to prepare for the worst," the Bank said, describing how the European sovereign debt crisis could spread to every corner of the globe. "In this highly uncertain environment, developing countries should evaluate their vulnerabilities and prepare contingencies to deal with both the immediate and longer-term effects of a downturn."

Thirty developing countries (listed in the chart to the right) rely on external financing for more than 10 percent of GDP. Why does that matter? In the event that global markets freeze up in panic over the euro crisis, these governments and their firms will find it harder to find financing overseas. They're more likely to see a contraction that could come in the form of austerity, layoffs, or reining in of capital investments.

In fact, this is already happening. As Europe grinds to a halt, investment from the continent to the developing world has slowed down in turn. Who's really in trouble?

Consider Egypt, the populist darling of the world after Arab Spring revolts. Egypt ships 40 percent of its manufactured goods to the euro zone. Strike one. It has the precarious distinction of being one of three countries in the developing world with (1) a deficit higher than 5 percent of GDP and (2) a debt/GDP ratio over 75 percent. Strike two. Is firms have some of the highest levels of short-term debt, making them particularly vulnerable to a shock from Europe. Strike three.

Even without a shock, the Egyptian stock market is way off its 2011 high and unemployment has climbed above 11 percent. Perhaps the only bright spot is inflation, which has fallen dramatically in the last half-year -- but much of that is due to the very global slowdown that threatens to starve the country of financing.

>