What's the Point of the World Economic Forum?
Global luminaries debate China in Switzerland, as an existential crisis plays in the background at Davos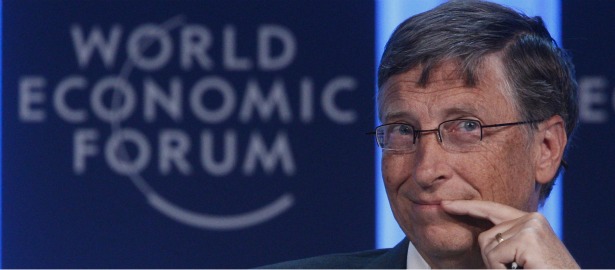 Reuters
Chinese Investment Are a Blessing and a Curse, say Davos Experts
After toxic debt ravaged the global economy in 2008, Beijing was quick to proffer massive injections of investment stimulus to help avoid a more costly disaster. But naysayers at Davos are saying that the Chinese economy is much too wobbly to support the teetering euro zone and U.S., according to Reuters.
A special report
on a global economy in crisis
"China is still far too export-dependent and that makes it very vulnerable, Nariman Behravesh of IHS Global Insight told Reuters, "The second worry is the housing situation. It is tricky because there are very few countries that were able to deflate a housing bubble without creating some other damage."
China has recently seen a decrease in property sector sales. Some 1/3 of all Chinese loans are dealt to its faltering property sector, according to one independent Chinese economist, formerly with Morgan Stanely, who spoke us. The concern is that if property sales continue to decline, the loans will go unpaid and another debt crisis will foment, this time in the People's Republic.
More Sinophobia at the Swiss Chalet
Davos experts have expressed concerns that China's recession-era investments in foreign economies may spread China's issues with labor rights and democracy to the international community. The AP reports:

With the billions of dollars in Chinese investments pouring into their countries, some governments have accused China of seeking to exploit the economic weakness of others to grab valuable natural and technological resources at rock bottom prices."
In our International Channel, I wrote about two Chinese state-owned enterprises building the largest highway in Africa in Algeria. Not only were the companies implicated in a major scandal involving bribery and kick-backs, but local Algerian employees on the project were not compensated for their work for upward of 16 months, despite Algerian labor laws.

Davos: What's the Point?
"The richest one percent cannot be the solution for our crisis, because they are the crisis, they are responsible for the crisis," Occupy Davos' igloo encampment organizer David Roth told CNN.
Roth observed that at a time when European governments face extreme austerity measures to get the global economy back on track, a trip to a fancy ski resort where the one percent listens to arguably bad 80s bands and drink pretentious beverages is almost laughable.
Also, CNN offers a tutorial on how to build an igloo.
East Trumps West
2012 is the Chinese year of the dragon: what is supposed to be, cosmologically, a time of drastic change for global dynamics.
But the complete role reversal between Eastern and Western economies has been a long time coming. In the 90's the international economic community worried about the toxicity of an 'Asian Crisis.' Now, Western economies are a major concern for their more affluent counterparts across Asia. This has been a long time coming.
Yesterday at Davos, Emirati Economy Minister Sultan Al Mansouri told Bloomberg that the United Arabian Emirates will grow by four percent in 2012.
"We are worried - a lot of our trade with Europe is quite big," said Mansouri. "But let's hope for the best. Let's be optimistic, as we heard from [Chancellor] Merkel yesterday."
Mexico's Calderon Wants Us to Break Out the Big Guns
Mexican President Felipe Calderon, this year's president of the 'Group of 20,' employed a lot of explosive analogies in a speech at Davos yesterday, according to this Dow Jones article.
The global economy has become "a time bomb and the bomb is in Europe," Calderon said, "They need to bring out the bazooka [a larger financial aid program] immediately."