What's the Matter With Florida?
Economists prefer to see elections through the prism of economics. Long before the Clinton campaign took up the slogan "It's the economy, stupid," they were saying the same thing, if more politely. In keeping with that theme, here's a fact to keep in the back of your mind tonight as you watch GOP primary results from the Sunshine State: Florida has the highest rate of long-term unemployment in the nation, as CNN reported today. Nationwide, 42.5% of the jobless have been out of work for more than half a year. In Florida, it's a majority of 53%.
What's the matter with Florida? Start with with the housing bubble. Florida has one of the nation's highest foreclosure rates, and housing prices have dropped by as much as 40% in some metro areas. The ripple effect has devastated the broader real estate industry and trapped families in depreciating homes and hopeless economic conditions.

But it's not just the housing. It's the people, stupid. Florida is old. The four large metro areas with the highest share of seniors are
all in Florida
. That matters because age correlates strongly with long-term unemployment. As the
Pew fiscal analysis
explained, 45% of the unemployed people over the age of 55 have been out of work for more than a year. For workers between 20-35, that extra-long-term unemployment rate is under 30%. Sure, many of the seniors in Florida are straight-up retired and out of the labor market. But others are still looking for work and stuck in a labor market that won't have them.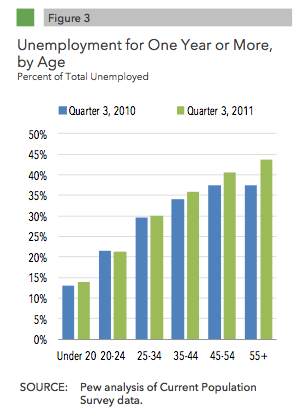 At every age group, long-term unemployment makes up a larger portion of total joblessness. Although younger workers are less likely to have a job, it's also the case that workers are less likely to find another job easily.
This is correlation, and causation might flow the other way. Perhaps older people are more likely to live in states, such as those in the Sun Belt, that were more likely to suffer from housing busts and deeper unemployment. It's also possible that older workers are more expensive. Since most of the jobs added since the recession have been either very cheap or for the highly educated, the market for older non-college graduates has dried up.
Either way, long-term unemployment is perhaps the singular tragedy of the Great Recession, and nowhere is it more acute that in Florida. Expect the exit polls to scream economic angst, and as the race moves to Nevada (another housing bust state) expect lots of promises for the old and jobless.