War and Peace in 30 Seconds: How Much Does the Military Spend on Ads?

The X Games aired on ESPN last night to the delight of snowmobile fans, snowboarders, and the Navy. Yes, the U.S. Navy was one of four major sponsors of the event, filling ad intermissions (you can see one of the spots running pre-roll on ESPN) and sponsoring events like the half pipe snowboarders. "How much does the military spend on advertising, anyway?" one X Game fan asked me last night. So, we looked it up.
The military's budget for advertising -- on TV, radio, print, web, mail campaigns, pamphlets, and movie theaters-- was projected to be $667 million dollars this year, according to the Operation and Maintenance Overview prepared by the Office of the Defense Comptroller in February 2011.
Inside the numbers, there are a few interesting stories. Once you take out "price changes" (i.e.: inflation adjustments) military ad spending declined by $91 million, or 12 percent from 2010 to 2011. More than half of that change happened inside Marine Corps ad spending, which fell $54 million, or 40 percent. Total Navy ad spending was estimated to be $64 million in FY 2012, just a few million dollars shy of last year's budget.

And here's how that $667 million breaks down between the branches: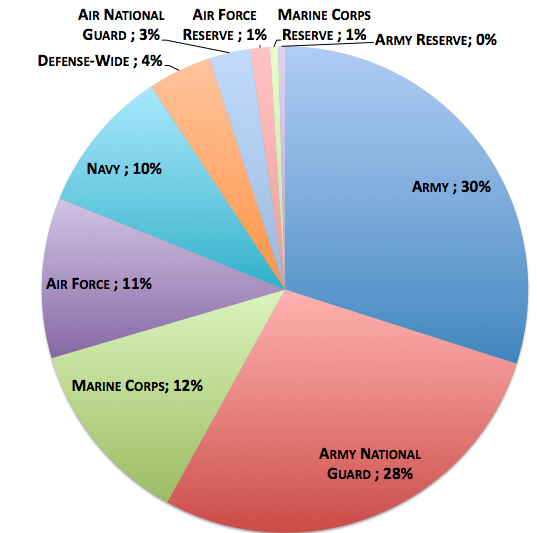 One question I wanted to answer for myself is which of these slices is disproportionately big, indicating that advertising spending plays an outsized role for this service. One standout is the Army National Guard, which receives 28% of advertising spending but only $7 billion out of the $200 billion (3.5%) in the operation and maintenance title summary.

>