Time for a Royalty System for Aggregators?
As the demand for digital news -- via aggregation -- continues to increase, the supply is decreasing. Maybe we should charge companies that aggregate content to reinvigorate the industry.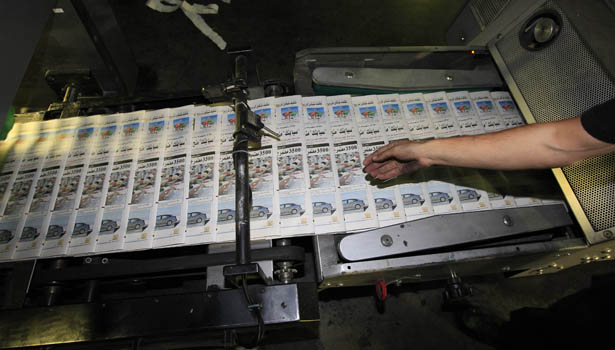 Reuters
After years of reeling from the impact of Internet-based competition on revenues, major news organizations are embarked on a variety of initiatives they hope (or better yet, expect) will finally recoup some of what has been lost. For anyone in the field, there is a growing vocabulary for strategists to master: paywalls, metering, micropayments, and mobile subscriptions, among others. With so much energy and enterprise devoted to reversing the downward spiral, there is a reasonable chance that 2012 could mark the start of a turnaround for some companies.
Rick Edmonds of the Poynter Institute, who is a particularly astute follower of trends, alerted me to an impressive new venture called NewsRight that is backed financially by the Associated Press and twenty-eight other news organizations, including The New York Times Co., The Washington Post Co., The McClatchy Co., Hearst Newspapers, and Germany's Axel Springer Group. The initial objective is to license content from leading news gatherers that is now being used (pilfered is the operative term) by aggregators who have paying customers or sell advertising on their sites but do not flow any money back to the content originators. The Associated Press began to establish what it called the News Registry in 2009 to track the unauthorized use of its output across the Internet. NewsRight is a substantial expansion of that project, with the ambitious goal of providing high-quality content but collecting fair payment in return.
After leaving ABC News, where he had been president for almost fourteen years, David Westin was recruited last spring to serve as chief executive of what came to be called NewsRight, bringing together aformidable group of investors and refining the technical and business framework for the partnership. Westin was trained as a lawyer (he was a Supreme Court clerk) and has been joined in top management by the AP's experienced general counsel, Sri Kasi, who had been instrumental in shaping the tracking concept for the news agency. So far, about $30 million has been raised from the backers, and thirty additional companies have agreed to provide content, making a total of over 800 news sites thatwill be part of this vast cross-section of material -- the use of which NewsRight will closely monitor.
In his report for Poynter on NewsRight, Edmonds concludes,
the venture will likely be greeted with derision or yawns by the digital intelligentsia, who has long decided that fences around content are retro and futile with the Internet providing users so many avenues to free news access. But we are about to have a real-world test of that proposition, where even middling success would count as a big win for the legacy companies who have long wanted to be paid more and more broadly for the news content they originate.
That judgment clearly poses a substantial challenge for Westin, who navigated an extraordinarily complex set of problems in his tenure at ABC News with what was said to be diplomatic skill and fortitude. Nonetheless, while there, he had to make sweeping staffing reductions to meet budgetary demands, a painful decision for even the most-skilled executives. Recognizing the consequences of those cuts, Westin came to NewsRight determined that additional revenues will help to underwrite the reporting that is the indispensable asset of the participating news organizations.
Summarizing the widespread paradox of the digital age, Westin said in an interview that "the overall demand for news is going up but the supply of the best original content is being jeopardized by cutbacks." A recent survey by the Pew Research Center estimated that the number of staff reporters at newspapers and news magazines is down by about 30 percent in the past decade. While some parts of the digital era's news ecosystem seem to be doing well -- Politico and Pro Publica, for example, have thrived after their launches, and industry stalwarts Bloomberg News and Thomson Reuters have substantially expanded -- the crisis at metropolitan newspapers, in particular, has deepened. "With our participating organizations, NewsRight has a critical mass of news to offer," Westin said, "and we want to transform the way the marketplace feels about content, recognizing its real value and the role of professional reporters and editors."
In the first phase of operations, NewsRight will only track text content, but intends to expand the service to video and photos over time. NewsRight has identified the most aggressive "scrapers" -- the scores of sites that search the Internet for news in a range of subject areas and characterize themselves as "media databases" or "media monitors" and sell subscriptions to corporations or government agencies without compensating news organizations. The scale of these businesses has apparently reached a size that, over time, could make a difference to the bottom line of the content generators. According to a piece by Andrew Phelps of the Nieman Journalism Lab, the AP's News Registry devised a means of identifying, recording, and tracking every piece of content AP makes available. "Part of that plan,"Phelps wrote, "was the beacon, a little bit of JavaScript embedded into the AP's syndicated news feed which helped expose people who in the AP's view were scraping or, well, over-aggregating, its material." NewsRight has access to that technology, enhanced to provide extensive data on story usage and reliable analytics on what is being read and how it affects advertising and any surrounding material.
NewsRight's potential strength, Westin believes, is the magnitude of its output from all its illustrious participants, and the benefits websites will gain from dealing with a single licensing company -- and respecting copyright. The clear implication is that persistent pilferers will eventually face legal action from the copyright holders. Establishing what amounts to a royalty system for news has some analogs -- ASCAP for music and the Copyright Clearance Center for mainly technical and scholarly material. NewsRight's success is by no means assured, but from all we know now, it is a quality outfit with a valuable mission, and deserves to do well.