The Case for a College 'Shopping Sheet' (or: Obama Reads 'The Atlantic'!)
The president thinks colleges should try to be as transparent about their "specs" as, say, Best Buy. We couldn't agree more.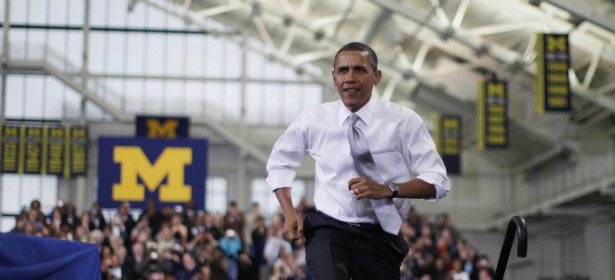 Reuters

President Obama's speech last week on college affordability offered a reform package that amounted to a carrot and a stick and a magnifying glass. He proposed creating a $1 billion fund to invest in colleges that showed progress toward cost control. That's the carrot. He proposed tying federal aid to improvements in affordability. That's the stick. And he proposed a "shopping sheet" that would help students and their families see more clearly the true costs and benefits of attending a certain school. That's the magnifying glass.

The political battleground over this package will focus on the stick. Jon Chait at New York magazine points to the American Council of Education accusing the administration of floating cost controls: "When we hear things like a shift in federal aid, it causes our antennas to go straight up."

But I'd like to focus on the magnifying glass, which has been a rallying cry for this site for over a year.

The first time I read a comprehensive plan to create a "shopping sheet" -- or "nutrition label", or "stat pack", or "consumer report" -- for college, it was back in 2010, when Bridget Terry Long, a Harvard University education economist, unveiled her proposal at a Center for American Progress conference for government to require every college to post a standard fact sheet including: total cost of attendance, loan default rate, six-year graduation rate, employment rate within six months of graduation, and alumni satisfaction rate. Choosing a school would never be as easy as choosing a digital camera from Best Buy, Long conceded, but if we forced schools to make their specs as transparent as a Best Buy product, students might make better decisions.
Two weeks ago, The Atlantic ran an unwitting curtain raiser to the president's "shopping sheet" proposal when our columnist Marty Nemko solicited reactions to his plan for a consumer report card. Nemko's dream report would include:
Growth in critical thinking and writing. Each year, at each institution, a random sample of 150 freshmen and 150 seniors would take the Collegiate Learning Assessment, an instrument many consider the best of its kind. To ensure the examinees give full effort, their scores would be posted on their transcript. Each college's report card would state its average freshman score and senior score on both critical thinking and writing ...

The results of the most recent alumni satisfaction survey ...


The accreditation visiting team report and Association action ...


The full projected four- and five-year cost of attendance (subtracting cash financial aid), broken down by family income and assets ...


Crime statistics. The Clery Act requires all institutions to collect crime prevalence data on and surrounding campus. The College Report Card would include that data.

Four and six-year graduation rates, broken down by high school record Breaking down the average by high school record (weighted GPA + SAT) would make clearer the likely graduation rate for a particular student ...


The percentage of graduates that are professionally employed within one year of graduation, broken down by major. The institution's alumni survey, mentioned earlier, usually contains that or similar-enough information ...

The president's plan looks awfully similar (perhaps the White House was reading!). The administration proposes both a College Scorecard for all degree-granting institutions, which might include earnings and employment stats, and a Financial Aid Shopping Sheet that would create a mandatory plain-English template so that students could compare financial aid offers, line by line.
There are two key points here. One is that college is a messy and complicated market that would benefit from the harsh light of transparency. Two is that much of this information already exists and the real value is creating a means for families to find it easily and compare it meaningfully school-by-school. Creating a transparent marketplace for college is a relatively cheap first step toward getting families to make better decisions about which schools are the right fit for their students. The College Scorecard and Financial Aid Shopping Sheet are neither carrots nor sticks, really. They're not about punishing. They're just a smarter way to help schools see what's already there.

>