Learning the High Art of Bookselling at Politics and Prose
The D.C. landmark survives and thrives in the digital publishing era, cultivating a strong writer-reader community and embracing change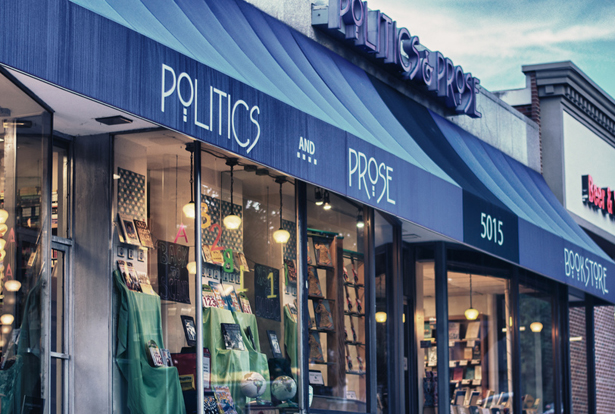 Politics and Prose
The notion of owning a neighborhood bookstore has a cozy feel to it, like being the proprietor of a small country inn. But as just about anyone who has pursued those dreams can attest, actually running a successful business is much harder than imagined in any idyllic image that remains in this frenetic era of economic stress.
Last June, Lissa Muscatine and Bradley Graham took over Politics and Prose, a great independent bookstore in the northwest corner of Washington, D.C., that was founded in 1984 by Carla Cohen and Barbara Meade. After Carla's death in 2010, her family and Barbara meticulously reviewed potential buyers for the bookstore, while customers warily awaited the outcome, recognizing that maintaining the unique personality of the store was by no means guaranteed.
While not experienced in retail, as potential owners, Lissa and Brad had excellent credentials for the store's main focus -- politics and prose. Lissa had been a senior adviser and speechwriter to Hillary Clinton, after working as a reporter. Brad had a long and successful career at the Washington Post and wrote two books on national security and defense, published by PublicAffairs.
Somewhat to their surprise, Lissa and Brad found that the closer they looked, the more intrigued they were, even though their own survey of bookselling provided persuasive evidence of the risks they would be taking on. In an article for the Washington Post explaining why they wanted to take the plunge, Lissa and Brad wrote,
Politics and Prose has long been an oasis from the hazards and vicissitudes of the loud and instant world in which we live. It is a place that celebrates the life of the mind, a public space that forges connections among a wide range of people and ideas. That, as much as anything, is what made us want to buy the store. And it is what we are determined to preserve, while looking for ways to ensure that Politics and Prose stays relevant, influential and technologically up to date.
Now that they have been through a full fall of transition and the holiday season, I was curious to know how they were doing. The answer is encouraging. Here is a letter Lissa and Brad wrote me summarizing their experiences so far.

"Most heartening," they wrote, "is that the store continues to flourish even amid the uncertainties of the book industry... Our author events drew standing-room-only crowds, and the store was packed last month with holiday shoppers." In a conversation to help in framing these reflections, Brad's enthusiasm was palpable. Overall sales were up compared with last year -- doubtless, in part, because of the demise of Borders -- and despite the intense competition of online retailers, particularly, Amazon. This was also an especially strong season for new books, and Politics and Prose had a dazzling series of author visits, some of which needed to be held in auditoriums. The store is 14,000 square feet, of which 8,000 feet is retail space, which is nowhere near enough to accommodate what are, after all, amazing events given the stature of the writers featured. Here are just a handful of the bestselling and nationally known authors who were on hand in November and December: Tom Brokaw, Umberto Eco, Joan Didion, Chad Harbach, Michael Ondaatje, Robert Massie, Chris Matthews, Walter Isaacson, Bill Clinton, Henry Louis Gates, and John Lewis Gaddis.
Brad also stressed the importance of the store's expanding selection of classes for aspiring writers and reading groups, supervised by Susan Coll, a novelist with extensive connections in the community. A survey about "literary travel" drew 500 responses for possible trips on Shakespeare and Dante themes. And in November, a state-of-the-art, print-on-demand machine was installed, which has attracted customers with their own work to self-publish as well as offering digital files for a growing list of backlist titles that might otherwise be unavailable in the store. The slogan they've adopted for this service is "Real Books in Real Time."
As for the role of e-books, Brad was asked by Publishers Weekly to describe the store's innovative strategy: "We're trying to embrace the ebook revolution not fight it," he said, explaining that customers "can download ebooks through our Web site... a vast number of customers are unaware that Politics and Prose and other independent bookstores even offer ebooks. So we face a huge hurdle simply raising consciousness. To this end we've started a series of seminars aimed at familiarizing customers with how to purchase ebooks and download them. The seminars explain why customers should choose P&P for their ebooks." The objective of all these initiatives is to deepen the ties with the community that Politics and Prose developed over the years as the ways and means of bookselling undergo dramatic changes. "Our mission in this era of transformation," said Brad, "is to promote books and foster civic dialogue."
Politics and Prose is a favorite bookstore among publishers and authors because of the spirit it has embodied and that its new owners seem to have made their guiding principle. The customers streaming into the store, reaffirming its value as a significant local asset, apparently agree with that approach. Here's a probable first: GQ's just-released annual survey of the 50 Most Powerful People in Washington lists Lissa and Brad at number 50.