Jack Daniel's Secret: The History of the World's Most Famous Whiskey
In the 140-year life of the Jack Daniel's, the world's best-selling whiskey, the liquor's keepers have managed their old-fashioned brand with a blend of savvy salesmanship and pithy advertising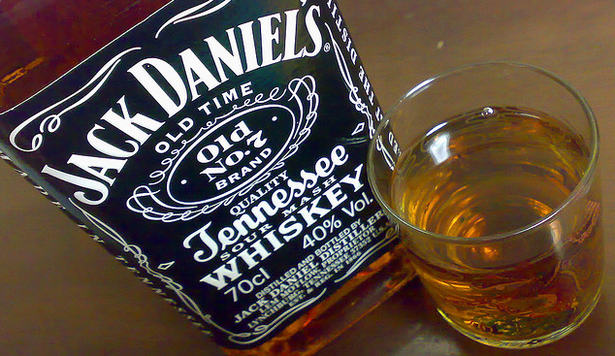 yancunyong/Flickr
The character of Jack Daniel's, the whiskey with the iconic black-and-white label on the equally iconic square bottle, is inextricably bound up in the distinctive character of Jack Daniel, the brand's founder and first master distiller.
A physically diminutive man only five feet two inches tall, Jack Daniel [photo left] devoted his outsized personality to the ideal of making a whiskey that, thanks to charcoal filtering and other factors, he could be proud to sell at a premium price.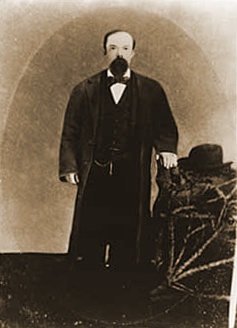 In the 1870s, Daniel had lots of competitors around Lynchburg, Tenn., in distilling whiskey filtered through charcoal. He wanted his whiskey to represent something special. So he used only the iron-free cave spring water on his property and the finest grains, mellowed his whiskey by filtering it through ten feet of sugar maple charcoal, and changed the charcoal out more often to produce a more consistent and better whiskey.
Until the 1950s, sales of Jack Daniel's grew almost entirely through word of mouth, boosted by occasional media attention. In 1951 Fortune published an article on Jack Daniel's that chronicled its growth and appeal to such disparate figures as the 1950 Nobel Prize winner William Faulkner, British prime minister Winston Churchill, and Hollywood director John Huston. A similar 1954 article in True, one of the most popular magazines of its day, put even greater emphasis on its being the favorite drink of entertainment celebrities, such as Frank Sinatra, Jackie Gleason, and Ava Gardner. Sinatra called Jack Daniel's "nectar of the gods," and he sometimes wore a blazer with a patch for an imaginary "Jack Daniel's Country Club."
"The first modern ad for Jack Daniel's," says Nelson Eddy, the brand historian, "was a small black-and-white ad simply pointing people to read a magazine article."
What is especially interesting about Jack Daniel's beginning to advertise regularly is that demand then exceeded supply. "From the mid-1950s to the mid-1970s, it was on allocation," Eddy said. "The sales representatives would literally go into an establishment and let them know how many bottles or cases they could have. When other companies would pull back from advertising, Jack Daniel's spent money on ads to tell people they couldn't get it."
The approach followed a 1955 one-page marketing plan drafted at the behest of Art Hancock, the brand's first marketing director, and Winton Smith, its first national sales director, who envisioned a future based on the heritage that Jack Daniel defined. The one-page plan, Nelson says, "codified Jack Daniel's as authentic, made by real people in an out-of-the-way place." Their ads are distinctive not only for what they say but also for what they show: "black-and-white photography of these people in Lynchburg, Tennessee, who aren't in smoking jackets, [but] work clothes they wear every day to make the whiskey."
Ever since that one-page marketing plan, there's been a singular focus on telling the lore and legend around Jack Daniel's. The stories use Lynchburg and its people but the takeaway isn't Lynchburg. It's those universal messages about pride in being independent, making your own way in the world, and standing for something authentic. The special role of Lynchburg in the Jack Daniel's brand experience led to opening the Jack Daniel Distillery to public tours. More than 200,000 people now visit the distillery every year.
While Jack Daniel's remained available only on allocation through the 1970s, popular culture continued to associate it with maverick independence. Paul Newman's antihero title character in the 1963 movie Hud drinks only Jack Daniel's, and rock musicians of the 1960s and 1970s gravitated to it just as Frank Sinatra did. No celebrities have been photographed more often holding, or next to, a Jack Daniel's bottle than rock stars Keith Richards and Slash. The biggest- selling song of 2010, "Tik Tok," by Ke$ha, includes a verse about brushing her teeth with Jack Daniel's. Nelson Eddy says, "When Hollywood scriptwriters want to use short-hand to show that a character is somebody to reckon with, they still put Jack Daniel's in their hands."
Jack Daniel's made a positive out of having to go on allocation, but it didn't want to frustrate large numbers of customers permanently. The challenge was to increase supply of an artisan-made product. Brown-Forman tore down the existing distillery and built bigger facilities on the same site, while the distillery employees continued to go about their work in the open air, walking on temporary wooden catwalks built around the still. Jack Daniel's then grew into a global brand, almost tripling sales from 1973 to 1986. To support this growth, Jack Daniel's invested more in its archetypal Lynchburg-focused advertising, which continued to resonate with consumers. It also began to engage in an active way with popular culture through sponsorships. The now famous Jack Daniel's barbecue competition dates back to the 1980s. In the 2000s Jack Daniel's began sponsoring motor racing teams in the United States and Australia. In September 2010 they began a campaign to establish a U.S. national holiday in honor of Jack's birthday, including a bus tour from Lynchburg to Washington, D.C.
For July 4, 2011 Jack Daniel's launched a sweeping, multimedia initiative to celebrate the independent American spirit. My favorite poster from this campaign reads, "56 men signed the Declaration of Independence, one man put it in a bottle."

Excerpted from Grow by Jim Stengel, Crown Business, 2011.

>