In the Era of Greed, Meet America's Good Bank: USAA
"USAA is not publicly traded. And we take a conservative approach to managing our members' money."
Highly profitable while conservative with lending, and not publicly traded, the United Services Automobile Association is a model for the financial services industry.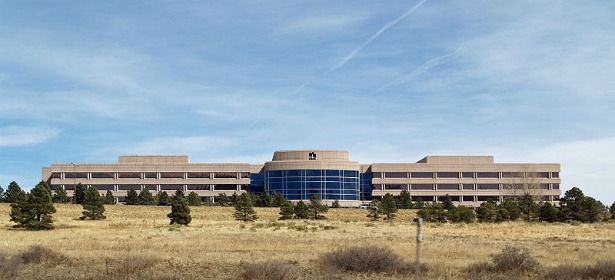 Reuters

It didn't take a penny in federal bailout money. It grew throughout the financial crisis. It has consistently garnered top customer service rankings. And Fortune magazine just named it one of the 20 best companies to work for in America. Meet America's good bank: USAA.
USAA is a San Antonio, Texas-based bank, insurance, and financial services company with 22,000 employees, serving 8 million current and former members of the military and their families. The company's roots go back to 1922, when 25 army officers agreed to insure one another's cars when no traditional companies would. Since then, USAA, or the United Services Automobile Association, has steadily grown.
By its very definition, USAA serves the middle class. It does business only with current and former members of the military and their families. Studies have shown that the U.S.'s all-volunteer military is dominated by members of the middle class, not the elite.
While other financial and insurance companies flirted with collapse, USAA's net worth grew from $14.6 billion in 2008 to $19.3 billion in 2011. And it has continued lending money while other banks have tightened their loan operations despite billions in government funding to encourage liquidity. It has a free checking account, has been at the forefront of electronic banking, and reimburses up to $15 in other banks' ATM fees. Its credit rates are 43 percent lower than the national average.
The firm's structure is one of its most interesting attributes. Unlike nearly every other Fortune 500 company, USAA is not a corporation.  It is an inter-insurance exchange made up of the people who have taken out policies with the firm. As a group, they are insured by each other and simultaneously own the company's assets. Instead of paying stockholders, USAA distributes its profits to its members. In 2010, it distributed $1.3 billion.
"USAA is not publicly traded," Nicole Alley, a company spokesperson, said in an email. "And we take a conservative approach to managing our members' money."
The firm is not perfect. A long list of consumer complaints can be found here. Standard& Poor's lowered their rating of USAA from AAA to AA+ last August but still rates the firm above its peers. And my colleague Felix Salmon correctly criticized USAA's initial reaction to the Volcker rule, which could force the company to change its structure. It's likely, though, that a simple restructuring of its own could avoid that.
The reason I'm focusing on USAA is because it represents a different idea about the purpose of companies. It's also run by former military members, who the last time I checked weren't considered European style socialists.
Howard Rosen, a Visiting Fellow at the Peterson Institute for International Economics in Washington, points out that the role society expects banks to fill has changed over the last few decades. For example, the share of bank lending devoted to mortgages doubled from 30 percent to 60 percent between 1980 and 2009, squeezing out consumer loans and other bank loans. Mortgage lending by commercial banks grew on average by 12 percent a year between 2001 and 2007 while bank lending for business purposes, i.e. not mortgages or consumer loans, grew on average by only 3.6 percent a year. Total commercial bank assets grew on average by 8.6 percent each year over the same period.
In the two years since the end of the recession, bank lending for mortgages and business loans have actually declined, despite a slight increase in bank assets.
"It used to be that we wanted banks to be good corporate citizens with strong ties to local communities," Rosen told me. "Now all we ask is that banks just do what they  were initially designed to do -- provide capital to companies who want to invest in plant and equipment in order to create jobs -- any jobs, anywhere in the United States."
Stephen Green, the C.E.O. of the British bank HSBC, makes a related argument in his new book "Good Value: Reflections on Money, Morality and an Uncertain World." Green is the only ordained minister who is also the chairman of a major global bank, one that dwarfs USAA and controls more than $2.5 trillion in assets worldwide.
As Stephen Fidler of The Wall Street Journal recently wrote, Green says that "finding real peace," involves accepting three uncertainties: that the world is imperfect; that we can't be sure of human progress; and that hope endures.
"As a matter of fact the ethics of the marketplace are almost by definition universal," Green writes in his book. "Everyone knows about the importance of truth and honesty for a sustainable business."
Green, the banker, is trying to decode what makes a business good. Perhaps he should look to USAA for advice. USAA isn't a model for an entire economy. But it is an example of technical innovation and thinking outside the box. We desperately need more of that. And more good banks as well.
___________
This article also appeared on
Reuters.com
, an
Atlantic
partner site.