Hostess Files for Bankruptcy, but the Twinkie Will Never Die
With the food manufacturer in jeopardy, let us consider the wonderful international complex behind the making of the Twinkie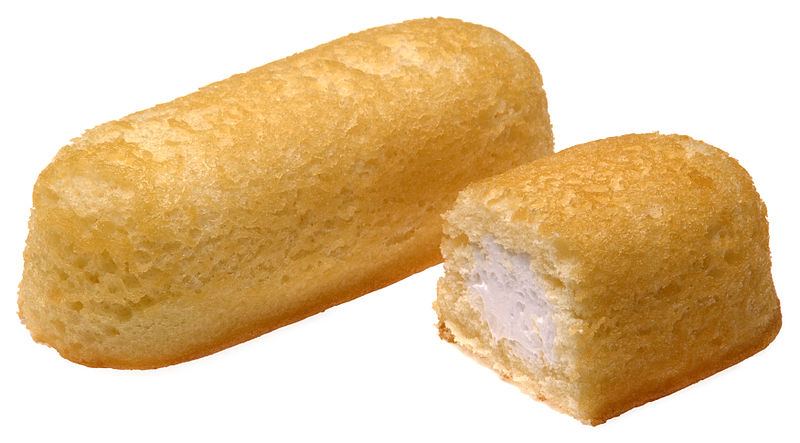 The Twinkie is indestructible (or
so we're told
), but the imperishable treat's maker is in danger of succumbing to that most common of economic forces: Health care and pension costs.
Hostess Brands, the maker of Twinkies, Ding Dongs, and Wonder Bread, announced that it is filing for bankruptcy for the second time in less than ten years due to expensive legacy pensions and medical obligations for its 19,000 employees in 49 states. Deep in debt, Hostess is also forced to weigh the rising cost of ingredients against falling demand for its sticky treats. Last year, inflation for sugar (21%) and wheat (69%) took ingredient costs to all-time highs while Twinkie sales declined by 2%.
This might easily turn into a story about unions and benefits, but I'd rather reflect on the indomitable Twinkie, itself, which is as much a symbol as a food (and if you ask certain people, it's barely the latter). In this archetype of processed snacks, enriched bleached wheat flour, sugar, water, eggs, and corn syrup combine in high-tech dance of food processing to make a "golden sponge cake filled with creamy filling." Sounds simple enough. It's not.
COMPREHENDING THE TWINKIE

Twinkies come from the verdant tree groves and golden wheat fields of the world. Kinda.
Cellulose gum harvested from trees goes into the white filling. Corn dextrin made from maize (same as the glue you lick on the back of envelopes) gives it a sticky coating. And the delicious-sounding Polysorbate 60 gives the goo a particular, well, gooeyness.

"The Twinkie comes from an international industrial complex," says Steve Ettlinger, author of the book Twinkie, Deconstructed: My Journey to Discover How the Ingredients in Processed Foods are Grown, Mined (Yes, Mined), and Manipulated Into What America Eats.
To bake a cake requires flour and an oven. But to build a cake empire, as Hostess did, requires technology and a vast distribution network (whose very size is ironically weighing on the company). That makes the Twinkie the blond, spongey child of a food manufacturing revolution that started with the industrial revolution. As Ettlinger wrote:

Over the years, wars and politics, as key events in history played key roles in inspiring the development of things like the modern, mechanized flour mill, baking soda, baking powder, artificial colors, artificial flavors, corn syrup, sorbic acid, and polysorbate 60 by forcing manufacturers to find alternative or better sources of sub-ingredients.  And these are all ingredients that make the modern Twinkie as well as all processed food possible. 

Late Twentieth century mastery of technology, coupled with the enormous post-World War II consumer demand for convenience and variety as family life became more fractured by demands of the workplace and leisure activities, pushed food scientists and the food companies to even higher levels of creativity that affect almost everything we eat, well beyond a simple snack cake born in the Depression. 

Today you can best appreciate the awesome complexity of the Twinkie by looking at the first ingredient on the back of the baggie: Enriched Bleached Wheat Flour.

"You would think that being wheat, it would be natural," Ettlinger says. "And it is, in a way. The Twinkies we eat in New York are made from wheat grown in the mid-Atlantic states. It's almost local!"
But pay attention to those first two words: Enriched and Bleached. Enriched means vitamins have been added, like B1, B2, and Niacin. The bulk of these vitamins come China, Ettlinger says. The Niacin is likely made in Europe. The process of enrichment was mandated by the U.S.  government in the early 1940s to ensure that more vitamins ended up in people's foods. The bleaching is done with chlorine gas, which is considerably more local than the vitamins, since chlorine is so toxic, you don't want to have to move it long distances.

Bleaching wheat does three important things. First, it oxidizes wheat to prevent it from spoiling. Second, it weakens the protein to make the dough soft. Third, it whitens the wheat. "There a general assumption among food makers that the public thinks lighter-colored foods are better," Ettlinger told me. "People relate to the blondness of the cake."
Understanding the first ingredient of Twinkies goes a long way toward understanding the deeper meaning of the Twinkie within the food manufacturing industry: It's international, it's complex, and it's as much a gizmo of technology as a piece of food. The food-processing industry in the U.S. is responsible for some $400 billion of sales each year, but its benefit for hungry Americans goes beyond manufactured tastiness. By turning food into a manufactured product, companies have been able to hold down the cost of our snacks even as food inflation lurches every quarter. The cheap and indestructible Twinkie is a miracle of science, coordination, and cost-control on the part of Hostess. If only health care and retirement policy were so easy.