Elite Wall Street Donations Jumped 700% in the Last 20 Years
Banks "frankly own the place," Sen. Dick Durbin famously said of Washington during the debate over financial regulation in 2010. And when it comes to total contributions for big donors, you can see what he's talking about (FIRE = the Finance, Insurance and Real Estate sector):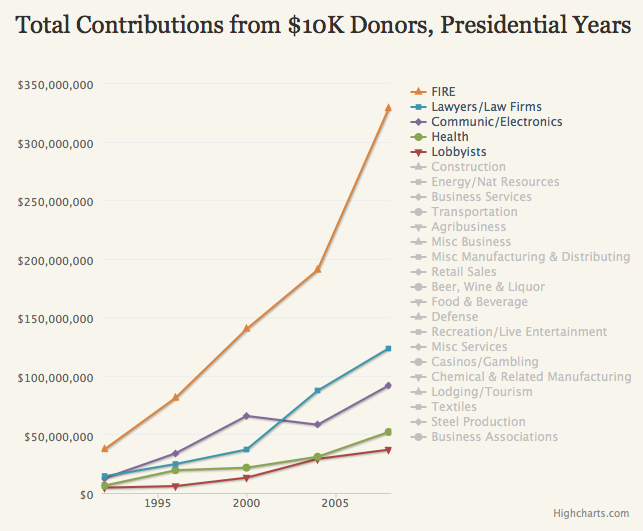 Most of the FIRE growth is coming from the securities and investment sector, followed by real estate, Lee Drutman writes at the Sunlight Foundation, elaborating here:

In 1990, 412 of the 1,091 elite donors from the finance industry came from the securities and investment industry, followed by 328 from real estate; by 2010, it was 2,178 from securities and investments, followed by 1,468 from real estate. In 1990, elite donors from securities and investments contributed $6.1 million and elite donors from real estate contributed $4.6 million. In 2010 elite donors from securities and investments contributed $84.0 million, while real estate donors contributed $44.5 million."

So, in a 20-year period when the financial sector's share of the economy expanded by a third, from 6% to 8.4% of GDP, donations from this particular group increased by 700%.
Before you go away thinking this graph explains everything you need to know about the way Congress works (and, by the way, that graph probably doesn't exist), keep in mind that elite donations are just a small part of how the richest Americans are more politically active than the rest of us. Via
Yglesias
:
For example, 41 percent of the very wealthy reported attending a political meeting.  Only 9 percent of Americans did so in 2008.  And 68 percent of the very wealthy reported giving money to a political candidate, party, or cause in the last four years.  In 2008-a year in which "small donors" were numerous-only 13 percent of Americans donated to a political candidate or party.  Again, there are small differences in the wording of the questions between the two surveys, but they are not likely responsible for the 55-point gap.