Don't Blame For-Profit Colleges for the Higher-Ed Lobbying Epidemic
For-profit colleges aren't the first, or even the biggest, education lobbyists. They simply learned from the best: America's beloved public and nonprofit universities.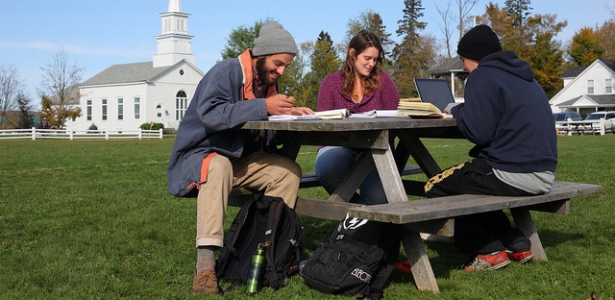 Reuters

The last two years have not been kind to for-profit colleges. Claims of widespread fraud and abuse have led to multi-million dollar lawsuits, increased scrutiny from Democratic policymakers, and a new set of regulations designed to hold for-profit institutions accountable for their graduates' future employment. The for-profits responded as most firms in the cross-hairs of federal regulators do: They hired lobbyists. Lots of them.
When the Obama administration softened the proposed regulations, many observers chalked it up to the costly lobbying effort. Since for-profits get most of their revenue from federal student aid, millions of dollars in lobbying raises questions about whose interests, exactly, are being protected. For many on the left, the lobbying campaign reinforced the conventional wisdom that, when given a choice between educating students or serving their own private interests, for-profits in education will spend more on the latter. Journalists from the New York Times and the Huffington Post have cast the story as yet another win for special interests.
But the drama surrounding for-profit colleges misses a more important storyline. When it comes to lobbying Congress and the president, for-profit colleges cannot hold a candle to America's public and nonprofit colleges and universities. In an industry where public money is plentiful and accountability is weak, it pays to have a man in Washington to make sure it stays that way.

IT'S OKAY, EVERYBODY'S DOING IT

Recent coverage of for-profit lobbying would have you believe that the millions spent over the last two years represent an unprecedented effort to skew policymaking in their favor. A recent New York Times article provided a chart of the lobbying expenses at eight large for-profit colleges and interest groups for 2010-2011, including the Apollo Group, owner of the University of Phoenix ($1.43 million), the Coalition for Educational Success, an industry-organized, faux-grassroots group ($1.65 million), and the Washington Post Corporation, owner of Kaplan University (reported at $1.71, though almost $500,000 of that total was spent on behalf of the paper itself). In this time of tight budgets, these are big bucks.
But context matters. Even the most cursory examination of data from the Center for Responsive Politics reveals that many top nonprofit universities outspent the most vilified for-profits during this period. The Apollo Group, for example, doesn't even crack the top seven in higher education lobbying spending when nonprofits are included. The for-profit Bridgepoint Education, which spent $1.17 million, doesn't make the top sixteen. All in all, thirteen traditional institutions spent more than $1 million in lobbying from 2010-2011, seven of whom were public systems funded with state tax dollars.
The biggest spender during this period was the State University of New York (SUNY) system, clocking in with a cool $1.7 million in 2010 alone - outspending industrial leaders like Sunoco ($1.12 million), the Motion Picture Association of America ($1.66 million), and Continental Airlines ($1.65 million). The SUNY system retains the well-known firm Akin Gump to do much of its D.C. lobbying, the same guys that represent Dow Chemical, Shell Oil, and Boeing.
If we go back to 2008, the picture becomes even clearer. Of the twenty higher education organizations with the highest lobbying totals, just two are for-profit colleges. Ten are public university systems, with SUNY ($6.05 million), the University of Texas ($3.52 million), and the University of Colorado ($3.07 million) topping the list. Smaller, prestigious nonprofit universities like Boston University ($3.6 million) and Johns Hopkins ($3.46 million) more than hold their own with the large public systems.
Much of this activity revolves around raising federal research money, which the public is more likely to support. But just like for-profit colleges, public and nonprofit institutions also have an interest in fending off federal efforts to increase accountability and transparency. Lobbying expenses spiked during the 2008 re-authorization of the Higher Education Act, when many higher education interests worked to block federal efforts to link data on students' college experience to their labor market outcomes after graduation, allowing consumers to compare colleges on the basis of their employment outcomes and return on investment. While some higher education groups supported the idea, the opposition's lobbying investments paid off. Congress inserted a provision that explicitly bans the federal government from ever collecting such data.
To be clear, lobbying is not the culprit behind runaway college costs. The millions spent on Washington influence don't even constitute pennies on the dollar for most of these institutions, many of whom boast budgets of more than $5 billion per year. But the lobbying largesse of the traditional sector -- and the media's disinterest in it -- raises fundamental questions about the responsible stewardship of public higher education investments. In these tight fiscal times, aren't there more productive ways to spend scarce resources? Perhaps these public systems, many of whom are curtailing course offerings and turning away students, should invest that money in raising the graduation rates of low-income students or providing the less fortunate with access to a world-class education. For the $1.02 million that SUNY spent on lobbying in 2011, Stony Brook could have enrolled 194 New Yorkers tuition-free.
With all eyes on for-profits, we lose sight of the fact that the weaknesses in our higher education system are not unique to a particular tax status. The for-profits didn't invent higher education lobbying. They simply learned from the best: America's beloved public and nonprofit universities.
>