Do Colleges Need a Consumer's Report Card?
Should each college be required to prominently post consumer information for prospective students -- a kind of nutrition label for higher ed? Tell us! We're publishing your best comments all week.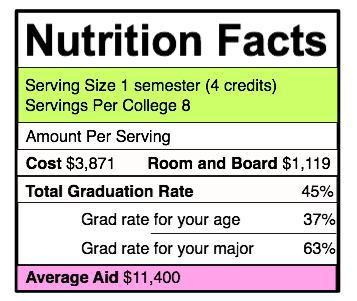 The government requires that every tire have its tread life, temperature, and traction rating molded into its sidewall. It even makes every package of taco-flavored Doritos tell you the percentage of the FDA recommended daily allowance of vitamin A to zinc is in each ounce. Yet colleges are required to post nada on their websites, even though, in our era of plummeting housing prices, a degree may be our life's most expensive (and important?) purchase.
Should each college be required to post--one-click from its homepage--externally audited consumer information for prospective students? The data might include: the percentage of freshmen that graduate in four years, the progress they make in reading and critical thinking, the employment rate and earnings for recent graduates by degree, and (as the Occupiers would approve) the actual four-year cost of school, including cash and loan financial aid, broken down by family income and assets.

On the other hand, prospective students and families are already buried in information about colleges. They have independently written college guides, and more statistics, facts, and opinions are a mere Google-search away. Is mandating a college report card just one more governmental intrusion that will, like privacy disclosure laws, create a mountain of paper and bureaucrats scrambling to fulfill the requirement while improving few students' lives?
That's this week's Working it Out question: Should each college be required to prominently post a consumer's "report card" on its website? You can vote and comment, and as usual, my editor, Derek Thompson, will post your most trenchant and amusing contributions. Next Monday, unless you change my mind, my column will argue that higher education is America's most overrated product and that mandating a report card is the most potent way to help colleges become the national treasure they claim to be.
>