Davos Takes Lessons From China and Latin America
WEF speakers warned that as the West's crisis lingers, there is a risk that different models of capitalism, such as the form practiced in China, may win out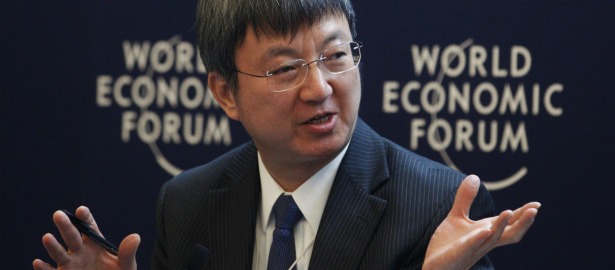 Reuters
A Modest Proposal to Solve Global Economic Woes: The China Model
Scrambling to boost the economy before the 2012 presidential elections, Obama has failed to explore one potential response to a recession that Davos experts are saying may last for years--a China-style economic dictatorship with free market tendencies.
China has come out of the global economic recession with a slowed growth rate, but remains relatively unscathed. Why? Beijing's one party has no heavy-handed congress through which it must pass legislation to recover the Chinese economy.
A special report
on a global economy in crisis
When rampant informal lending left China's export hub city of Wenzhou in its own mini-debt crisis late last year, China quickly capped interest rates for informal loans and set up an emergency fund to help indebted small business people settle the score with loan sharks, according to this article from China Daily.
This article from the Associated Press quotes WEF participants saying that "leaders must work fast to overcome the current crisis or else different models of capitalism, such as the form practiced in China, may win the day."
Latin America Unscathed By Eurozone Crisis
Latin American economies continue to expand, even as Europe struggles with a sovereign debt crisis, according to this article from the AP.  The Latin American participants at the WEF say that their continent's economy -- traditionally rocked by the ebb and flow of the E.U. --  is well poised to move past the global recession.
"This is really the decade for Latin America," Guillermo Ortiz, former governor of the Bank of Mexico told the AP, "We don't have to worry about inflation shooting up to 100 percent next year."
Merkel Asks for Time
German Chancellor Angela Merkel asked investors at the WEF to give European policymakers the time and space necessary to tackle the Union's sovereign debt crisis.
"Please take the long-drawn-out process with a degree of acceptance," Merkel was quoted as saying in this Bloomberg article.
Merkel also backed down from a demand that bondholders contribute to bailouts, Bloomberg reported.
Soros Knows it All--But He Won't Tell
81-year-old billionaire financier George Soros - what some may call the Davos Man incarnate - gave Barron's his impression of the Eurozone at Davos yesterday.
"With individual countries under strict fiscal constraints," Soros said, "the stimulus will have to come from the European Union and it will have to be guaranteed jointly and severally."
While Soros refused to give specific investment advice, he did say that stimulus plan "will require Eurobonds in one guise or another."
'Davos in 60 Seconds'
This video from Reuters illustrates not just the stark contrast between the Occupy Davos igloo encampment and the decadent ski resort where Karl Schwab's WEF is taking place, but the architectural ingenuity of the 99 percent.
Watch the proletariat build some igloos:
>